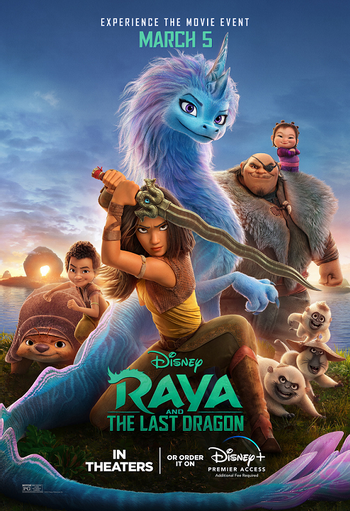 "My whole life I trained to become a guardian of the Dragon Gem. But this world has changed, and its people are divided. Now to restore peace I must find the Last Dragon. My name... is Raya."
— Raya
Raya and the Last Dragon is the 59th entry in the Disney Animated Canon.
Long ago, the people of the mystical land of Kumandra were united and protected by dragons. However, mysterious dark creatures called Druun wiped the dragons out and petrified the population. The last dragon, Sisu, used the last bit of dragon magic in the world, the Dragon Gem, to defeat the Druun before disappearing. In the aftermath, the people of Kumandra broke into five warring lands: Fang, Heart, Spine, Tail, and Talon.
Enter Raya, the princess of Heart and the guardian of the Dragon Gem. After an incident in her childhood causes the gem to break into five and revive the Druun, Raya strives to find Sisu and fix the world.
The film is heavily inspired by the cultures, aesthetics, and mythologies of Southeast Asia. It features the voices of Kelly Marie Tran and Awkwafina as the titular Raya and Sisu, with other supporting characters voiced by Gemma Chan, Daniel Dae Kim, Benedict Wong, Sandra Oh, Alan Tudyk, and Ross Butler. It had a simultaneous release in theaters and on Disney+ Premier Access on March 5, 2021, and became available to all Disney+ subscribers on June 4th. As with Mulan (2020), the film was released on other VOD providers a month after its premiere.
Previews: Teaser Trailer
, Official Trailer
.
The film's theatrical release was preceded by the short film Us Again.
---
Raya and the Last Dragon provides examples of:
open/close all folders
Tropes A to C
Tropes D to G
Tropes H to M
Tropes N to R
Tropes S to Y
---