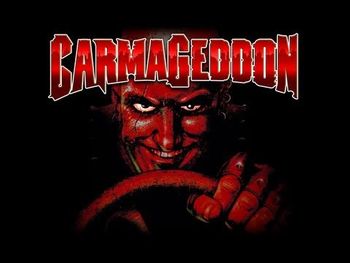 Carmageddon is a racing video game released in 1997 by Interplay Entertainment. The game ostensibly revolves around a series of car races held in a Wide-Open Sandbox, although racing is really not this game's selling-point. The player can race the opposition around the track, but true success comes mainly from causing as much damage as possible to their cars, as well as running down the innocent civilians (zombies in certain editions) that practically litter the map. At the time, it was one of the first video games to feature this type of violence on such a massive scale — the game actively encourages the player to kill as many pedestrians as possible, something which garnered it a lot of controversy from Media Watchdogs.
Each race takes place in a different scene: the countryside, a bustling metropolis, a series of mine shafts, and so on. Each race is timed, and requires the player to pass through Check Points placed along the course to win.
That is — if you choose to complete the race at all.
The other option is to kill as many civilians as you can, and attempt to destroy your competitors by repeatedly ramming into them at high speed. They, of course, are constantly trying to do this to you. Although it is based on the earlier Destruction Derby, Carmageddon's improved collision physics (not to mention aerial and underwater physics!) means that hitting both opponents and civilians in different ways (particularly at different strength and with a different side of your car) gives bonus points and extra time on the clock. The race can thus be won by demolishing all other competitors' cars and earning a lot more points than you would just by racing through the checkpoints. The points you gain can then be used to unlock upgrades to your car, making it even more dangerous.
For extra sadism value, races may also be won by killing all civilians on the map. It should, however, be noted that until you get access to the post-completion-only cars, this is extremely difficult. It helps if you can find the Pedestrians Shown on Map power-up, of course.
Destroying your opponents is also encouraged because you might win the car they were driving. Each car in the game is unique —enabling a completely different playing style — so destroying more enemies means improving your arsenal and repertoire. There are well over two-dozen different cars available to drive in the original game.
Compared to the strict linearity of most racing games, the ability to drive anywhere in the city — power-ups like Pinball Car, Ultra Grip Tires, and Moon Gravity pushing the definition of "anywhere" further than you might imagine — combined with the cartoony but consistent physics engine (the Instant Handbrake even works in mid-air and the Solid Granite Car will save you a lot of repair costs) make Carmageddon quite memorable.
Four installments were eventually released, although by the time of the third one, games of this specific genre were already quite prolific. The latest game in the series, Carmageddon: Reincarnation
, was released in April 2015 after a Sequel Gap of over a decade. In October 2016, it was replaced with an Updated Re-release called Max Damage, found here
.
The first game is usually regarded as a Spiritual Adaptation to the infamous cult film Death Race 2000.
---
Carmageddon provides examples of:
open/close all folders
#-E
F-J
K-Z
---