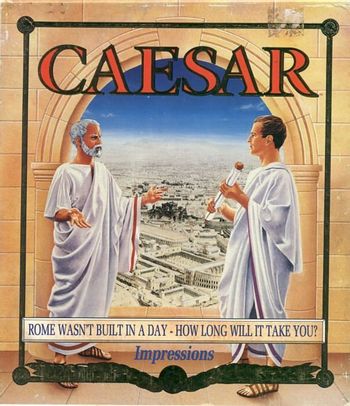 Rome wasn't built in a day
For the man himself, see Julius Caesar. For the play by William Shakespeare, see Julius Caesar.
Caesar is a computer Simulation Game saga of four city-building games where the player undertakes the role of a Roman governor, building Roman cities.
Developed by Impressions Games and published by Sierra in 1992 on the Amiga, and ported the next year to Atari ST, PC and Macintosh, the game can be described as SimCity in ancient Rome. In addition to similar graphics and user interfaces, it also came with issues of micromanagement, including complicated city-planning requirements such as building the right number of schools, theaters, libraries, bathhouses, and other amenities, within suitable distances of residential areas. The player is also tasked with the military buildup and defense of the city against Barbarian Tribes and rival nations such as Carthago.
The high-water mark of the saga is considered to be Caesar III, which spawned several and gradually improved spinoffs in Ancient Egypt (Pharaoh), Ancient Greece (Zeus: Master of Olympus) and China (Emperor: Rise of the Middle Kingdom). The game Nebuchadnezzar (which focuses on ancient Mesopotamia) also takes inspiration from this series.
---
These games provide examples of:
Alternate History: The campaign maps include some provinces that were never actually under Roman rule.
Anachronism Stew: The game uses the Christian calendar (BC/AD) instead of regnal years or Ab Urbe Condita, as would have been used historically, despite being set before either the birth of Christ or the rise to dominance of Christianity.
---