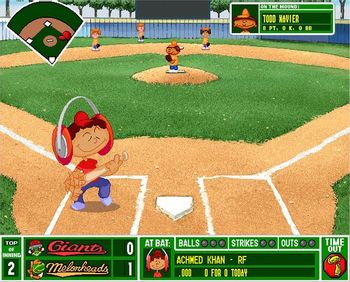 "Hi-de-ho, sports fans!"
— Sunny Day
Backyard Sports, formerly called Junior Sports, is a sports video game series originally made by Humongous Entertainment, which was later bought by Atari. It is currently owned by Day6 Sports Group, who has since rebooted it as a Mobile Phone Game series, which is far from the series' original computer game roots. It is the only game series that had licensing from all the major professional sports leagues in North America: Major League Baseball, Major League Soccer, the National Football League, the National Basketball Association, and the National Hockey League.
There have been over thirty games published in the series, the first few of which are regarded as quite good and the last few of which are regarded as awful. There are six main brands associated with the series:
The series has also spawned a TV special (NFL Backyard Basics: Football Tips from the Pros) and a few books, as well as a Comic-Book Adaptation (a prequel to the game Sandlot Sluggers).
The series was originally only Competitive Multiplayer, but starting with Backyard Football '10, Co-Op Multiplayer is also in the games.
A demo version of Baseball 2001 can be downloaded
from Infogrames, and a trial version of Sandlot Sluggers can be downloaded
from Atari.
---
The series in general provides examples of:
Certain installments of the series provide examples of:
---
Sunny Day: "This is Sunny Day, signing off!"