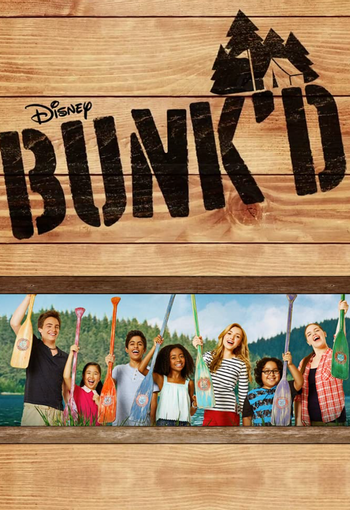 Bunk'd is a live-action sitcom that premiered on Disney Channel on July 31, 2015. It is a spin-off of the series Jessie starring three of its characters: Emma Ross (Peyton List), Ravi Ross (Karan Brar), and Zuri Ross (Skai Jackson). The premiere of the series was announced alongside the news that Jessie would end with its fourth season.
The show centers around the Ross kids (minus Luke, as his actor Cameron Boyce went to star in Gamer's Guide to Pretty Much Everything, with the In-Universe explanation being that he is attending summer school) being forced by their parents to attend Camp Kikiwakka in Maine for the summer, the same camp where their parents met as counselors. While there, they will learn valuable life skills and make new friends outside of their posh Manhattan comfort zone.
The series' premiere followed that of Descendants, and occurred about a few months before the finale of Jessie, meaning that the two shows ran concurrently for a few months even though Bunk'd was supposed to take place after Jessie. As such, the first half-season of Bunk'd was careful not to reveal any potential Jessie spoilers.
Supposedly, the series was meant to have ended in its third season, as Skai Jackson seemed to confirm on social media. However, the season was picked up for a fourth season in November 2018; what Jackson had meant was that she wasn't returning to the series. It was later revealed that List and Brar would likewise be leaving as well, leaving the show with an entirely new cast come the next season, and effectively moving the series out from its spin-off roots and turning it into its own series from this point onward.
On February 24, 2020, the show
was renewed for a fifth season, being the first live-action Disney Channel show to reach that milestone, and was renewed in December 2021 for an unprecedented sixth, under the title of Bunk'd: Learning the Ropes, making it the longest-running series on the network thus far. This season moves the action to Wyoming with the campers now attending a dude ranch. It's since been renewed for a seventh season, becoming the longest-running live-action comedy on Disney Channel.
As of 2023 this, along with Raven's Home, is the last show on Disney Channel with ties to the Disney Channel Live-Action Universe.
---
Tropes seen in Bunk'd: