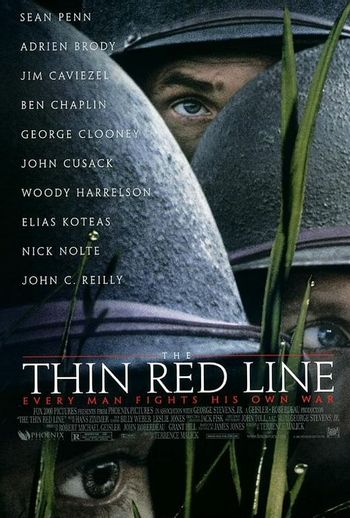 "
Maybe all men got one big soul everybody's a part of, all faces are the same man.
"
— Private Witt
The Thin Red Line is a famous book about the battle of Guadalcanal by author James Jones. It is a philosophical work about the internal and external battles the various soldiers go through.
It was made into a movie twice, in 1964 and 1998. The more famous of the two adaptations (the 1998 one) was created by legendary reclusive auteur filmmaker Terrence Malick, whose films specialize in deep philosophizing, sumptuous nature photography, and internal dialogue by multiple characters. Malick used the film to expound on the idea that "all men have got the same soul" and are part of nature, therefore warfare is just an example of mankind fighting against himself.
The film features Loads and Loads of Characters (still more in the book) who each have their own perspectives on the battle raging around them, although most of the characters seem to be surprisingly thoughtful and articulate in their internal monologues, despite (or perhaps because) the ever present threat of impending death.
The film is also notable for being pitted against Saving Private Ryan both at the time it came out and ever since, with the two (very different) war films being (perhaps unfairly) compared to each other and various film critics taking sides. This is owing to the fact that it depends on what kind of war movie you are looking to see.
Both movies are visceral, but Saving Private Ryan would probably be described as "action packed" and expounding the attitude that "war is hell, but sometimes necessary and we will never understand what the Greatest Generation went through." (It could even be said to have popularized this nostalgic approach to WWII.) Whereas The Thin Red Line would probably be described as "philosophical" and immersive, expounding the philosophy that men don't really know why they fight because they are part of nature, and make excuses for their violent nature.
Please note that this article is first and foremost about the 1998 film; examples exclusive to the novel or the 1964 adaptation will be noted as such.
See also From Here to Eternity, also by James Jones.
DEFINITELY not to be confused with The Thin Blue Line. Also not to be confused with an earlier war movie, The Big Red One.
---
This work contains examples of:
Mazzi
: Come out, you son of a bitch! I said
come out
, you cowardly shit-eater! Come on out and find out what the men in your outfit think of you, Band! You want to know what we think about you? We call you Glory Hunter! Come on out and volunteer us for something else! C'mon out and ged some more of us killed! You gonna make Captain for takin us to Boola Boola, Glory Hunter? How many medals you ged for that roadblock, Glory Hunter? You're a
prick
, Band! A schmuck! C'mon out and I'll take you myself! Everybody in this outfit hates your guts! Did you know that, Band? How does it feel, Band, how does it feel? You think that fucking helmet makes any goddamn difference? You think anybody cares about the fucking goddamn helmet?
Soldier
: Let's git back to some serious drinking.
Mazzi
: You really think that fucking hero helmet means anything alongside all the good men that are really
dead
?
Suss
: Come on, Frankie.
Mazzi
: And that's what we think of you! And so court martial me!
Later Band gets a second one from the regimental commander for throwing off everyones troop movements by venturing out of his assigned sector and setting the campaign back by a week.
---