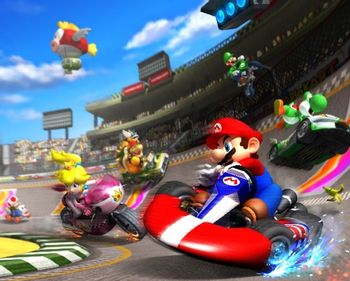 The sixth installment of the
Mario Kart
series,
Mario Kart Wii
is an arcade-style
Racing Game
for the
Wii
, released worldwide in April of 2008. This game introduces motorbikes as a secondary form of vehicle, as well as a Tournament mode, which functions similar to the Mission mode from
Mario Kart DS
.
The game is also notable for the improving upon the implementation of online multiplayer support present in the previous installment,, focusing on versus and battle modes for up to twelve participants, and up to two players could connect and play from the same Wii console. Players could compete against random players from within the same region or from any continent, or could compete only against players registered as friends. At the end of each race or match, each player's VR (versus rating) or BR (battle rating) would change based on their final ranking. Mario Kart Wii also featured the "Mario Kart Channel", which was available as an optionally selectable channel on the Wii Menu, that presented current regional or worldwide rankings for Time Trials, and the option of sending or receiving ghost data via WiiConnect24
It was the game to play on the Wii's online service, with one of the last ever games being a race of Mario Kart Wii. A third-party server; Wiimmfi
* Pronounced: Wii-m-F-eyeran by the eponymous Wiim, has taken upon himself to keep the servers up for this game, as well as other Wii games, meaning this game still has a niche online playerbase to this day.
---
The game features examples of these tropes:
open/close all folders
A-C
D-F
G-L
Game Mod: Mario Kart Wii is probably only second to Super Smash Bros. Brawl in terms of being the most modded console game ever. In addition to having its own custom servers, Wimmfi, created in response to Nintendo's official ones going down, there's also a humongous amount of modded courses and track packs, either recreated versions of courses on other systems or completely original tracks made by other modders. There can be so many that even the tournaments need their own scroll pages. The CTGPnote pack has the list sit at 40+ tournaments!
Glacier Waif:

Size is determined by height here, not weight. Waluigi, King Boo and Rosalina all fell victim to this trope.
Dry Bowser is this to an extent, as he has no flesh on him, and Large Miis can look the part.

Hot Potato: The Thunder Cloud item sets this up; it activates automatically on use and gives you a hefty speed boost and great offroad speed as well, but hold on to it too long and it zaps you with your own personal Lightning to shrink you. Bop somebody else's car, and you give them the item instead, warts and all.
Jungle Japes: N64 DK's Jungle Parkway and GCN DK Mountain.
Lethal Lava Land: All three Bowser Castle courses as well as Grumble Volcano.
M-S
T-Y
---