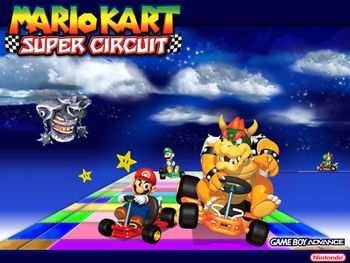 Mario Kart: Super Circuit
is the third game in the
Mario Kart
series, released for the
Game Boy Advance
in 2001. In 2011, this game was given away as a part of the Nintendo 3DS Ambassador Program. It would later see a wider release in 2014 on the Wii U
Virtual Console
, and in 2023 as a part of Nintendo Switch Online.
It brought the Mario Kart series to handhelds for the first time, combining gameplay elements from Super Mario Kart and Mario Kart 64. It features 40 tracks in all, the most of any game in the series until Mario Kart 8 pushed past that with post-release additions. In addition to 20 all-new tracks, it also includes all twenty from Super Mario Kart. In addition to single-player and multiplayer racing and battling, it also allows players to download time trial ghosts through the Game Link cable.
This is the only Mario Kart game that was developed by Intelligent Systems, who also made the Fire Emblem and Paper Mario series.
open/close all folders
Drivers
Bowser
Donkey Kong
Luigi
Mario
Peach
Toad
Wario
Yoshi
Tracks
Mushroom Cup
Flower Cup
Lightning Cup
Star Cup
Special Cup
Battle Tracks
---
The game features examples of these tropes:
Like Super Mario Kart, this game gives you limited lives when attempting a GP - you lose one each time you finish below 4th place, or if you restart a track at any time. Also like SMK, the tracks are entirely flat.
This is the first game to introduce a personalized rank aside the trophies. Like later games, this is determined by your performance on the road and your ability to restrain yourself from using items, but unlike these, you gain more points if you use a heavy character.
The Lightning Cup, introduced in this game, started life as a Nitro Cup between the Flower and Star Cups. In all the other games it appears in, it's the Retro counterpart to Nitro's Special Cup.
The character attributes are a strange mix between Super Mario Kart and Mario Kart 64: every character can reach the maximum top speed, meaning once again, lightweights are actually faster because they are better at accelerating, but also turn more precisely and endure off-road less than others. While heavyweights are more stable on slippy tracks like Snow Land or Yoshi Desert and can use mini-turbos more easily to compensate their low handling, these are only situational powers. The developers seemed to be conscious of it, considering they give bigger bonuses for using heavy characters on Grand Prix.
To play Time Trials on the Special Cup tracks and the Extra tracks, you must unlock them on 150CC. In other games, unlocking a cup in Grand Prix unlocks it in all other modes.
---