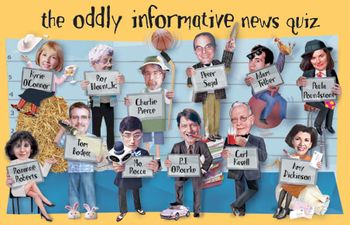 Wait, Wait... Don't Tell Me! is a radio quiz show that airs weekly on NPR and based in Chicago. It is hosted by Peter Sagal with veteran newscaster Bill Kurtis as announcer/scorekeeper. Previous to Kurtis, the announcer/scorekeeper was late NPR News anchor Carl Kasell, who stepped down in 2014 and was considered to be the show's scorekeeper emeritus until he passed away from complications of Alzheimer's disease in 2018.
The program, which premiered on January 3, 1998, is one of the few successful American attempts at adapting the quintessential British Panel Game format and is based loosely on the BBC's venerable The News Quiz (which also inspired Have I Got News for You). Every week, Peter and Bill are joined by a rotating cast of panelistsnote including Tom Bodett, P.J. O'Rourke, Paula Poundstone, Paul Provenza (director of The Aristocrats), and Mo Rocca (formerly of The Daily Show, currently of CBS Sunday Morning) who play quiz games based on the previous week's news. The topics tend to be silly or focus on the more ridiculous aspects of otherwise serious news stories.
The showcase of each episode is "Not My Job", where a celebrity guest has to answer three trivia questions to try and win a prize for a listener. Listeners also get to call in for the chance to win a prize for themselves. For many years, the only prize available was the highly coveted chance to have Carl Kasell record the greeting on their answering machine/voice mail service. In 2017, however, the prize was updated so that winners can choose to have anyone associated with the show record a voice mail greeting.
Regular Segments
Who's Carl/Bill This Time?: Carl (later Bill) reads quotes from the news and the caller must identify who said them.
Bluff The Listener: The panelists each read an odd "news story". Only one panelist has a true story, and the listener guesses who.
Panel Segments: Usually two per episode, in which Peter asks the panelists to provide or guess an answer to a question from the week's news.
Not My Job: At the midpoint of every episode, a celebrity guest is brought in (normally over the phone, although many will come in person if they're in Chicago or if the show swings by their hometowns) and quizzed about a topic far outside their expertise (except when they had John Hodgman on, of course; Ken Jennings also confounded them). Stephen King, for instance, got questions about Teletubbies and the like, while Lewis Black stumbled through three questions on Miss Manners. Leonard Nimoy had to answer questions about not being the other Spock (Dr. Benjamin, child care specialist), either. Bill Clinton got My Little Pony: Friendship Is Magic as his topic and got all three of the questions right.

Peter: So you're a former president, you're a Rhodes scholar, you're famously well informed. What could we be sure that an accomplished person like you would know nothing about? And then the answer came to us: the TV show My Little Pony: Friendship is Magic.

Listener Limerick Challenge: Carl (later Bill) reads most of a news-inspired limerick; the caller has to complete it.
Lightning Fill-In-The-Blank: The final "speed round" in which panelists quickly go through questions on the rest of the week's news.
---
Wait, Wait... Don't Tell Me! provides examples of:
---
Bill Kurtis:Well, if any of those tropes happen, panel, we'll ask you about it on Wait Wait... Don't Tell Me!