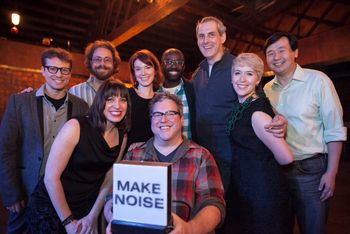 What do you get when take the entire Trivia section and dump it into a blender with brain teasers, a warm British pub atmosphere, family game night, a weekly special guest, host/comedienne Ophira Eisenberg, and the dulcet tones of in-house musician Jonathan Coulton? NPR thought they'd find out.
Ask Me Another is an hour-long radio quiz show co-produced once a week by NPR and WNYCnote one of the NPR affiliates in New York City where fans face off in various Jeopardy!-style competitions, where the final prize (often involving a custom Rubik's Cube and various items/favors) that the special guest (Very Important Puzzler) provides isn't really the end goal.
Some of the many V.I.P.s who have appeared in the show includes:
When the pandemic forced them to discontinue the live shows, the program's format changed to be doing quiz games with pairs of call-in celebrities rather than with actual contestants. Score was rarely kept for these games, and winners were rarely declared. This change was intended to be temporary until they could do live shows again.
However, in June of 2021, the show announced via Twitter
that it would air its final episode in September of that year, coming to an end after nine years. It carried on in reruns for a few more months, before their final final show was a rerun of the final episode.
See also Wait, Wait, Don't Tell Me, NPR's other game show.
---
Tropes:
---