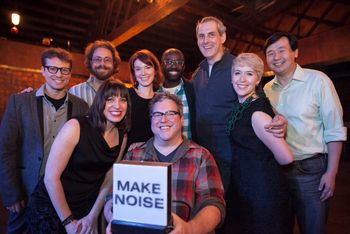 What do you get when take the entire trivia section and dump it into a blender with brain teasers, a warm British pub atmosphere, family game night, a weekly special guest, host/comedienne Ophira Eisenberg, and the dulcet tones of in-house musician Jonathan Coulton? NPR thought they'd find out.
Ask Me Another is an hour-long radio quiz show co-produced once a week by NPR and WNYCnote one of the NPR affiliates in New York City where fans face off in various Jeopardy!-style competitions, where the final prize (often involving a custom Rubik's Cube and various items/favors) that the special guest (Very Important Puzzler) provides isn't really the end goal.
Some of the many V.I.P.s who have appeared in the show includes:
See also Wait Wait... Don't Tell Me!, NPR's other game show.
---
Tropes:
---