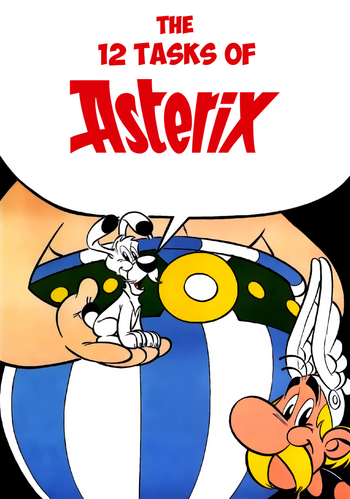 So imagine this: Julius Caesar conquers all of Gaul, with the exception of one tiny village, whose people just so happen to have a magic potion that can make them invincible. Due to this, the Roman soldiers start to wonder whether the village's inhabitants might actually be gods. So Caesar — who considers the whole idea idiotic — challenges the Gauls: If they — like Hercules — can carry out twelve tasks he invented (the original twelve labours are outdated), Rome will surrender and the Gauls will rule it as the new supreme masters. The chief picks his best men Asterix and Obelix and sends them off for an exciting adventure dealing with old hermits and sirens, facing beasts and ghosts and even... retrieving bureaucratic writs.
Released in 1976, Les Douze Travaux d'Astérix (The Twelve Tasks of Asterix) is the first Asterix movie (animated or live-action) that is based on an original screenplay rather than drawing its story from any of the comic books. It benefited from being directed and written by the series' creators themselves, René Goscinny and Albert Uderzo, along with their friend Pierre Tchernia for the script. The story was also adapted into a written book with illustrations.
While the story starts like any other Asterix adventure, it quickly shifts into much more surrealist, fantastic and at points downright trippy territory, leading to an ending so bizarre you have to see it to believe it. However the original series' trademark humor (pun-filled historical satire mixed with some well-placed jabs at contemporary issues) is still present for the entire flick. It was generally praised by critics and fans of the series alike.
See also The Ballad of the Daltons, also created by Goscinny and made by the same short-lived studio, Studios Idéfix.
---
The Twelve Tasks of Asterix provides examples of:
The way Asterix outsmarts Cylindric the German also counts, by asking him for a demonstration to get his guard down instead of charging into a straight fight.
---