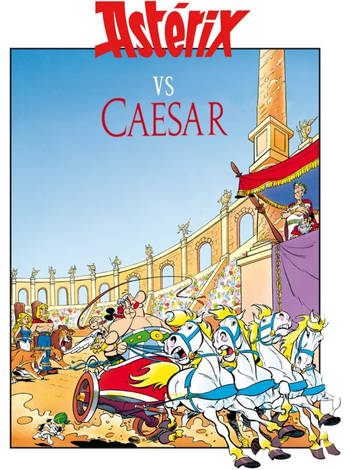 Asterix Versus Caesar (Astérix et la surprise de César in French, literally "Asterix and Caesar's surprise") is a 1985 French animated film based on the Asterix comics and directed by Paul and Gaëtan Brizzi. Vladimir Cosma composed the soundtrack and Belgian singer Plastic Bertrand performed the theme song.
When Panacea and Tragicomix are taken captive by the Romans and shipped to a distant outpost in the Sahara, Asterix and Obelix embark on a quest to rescue the two. Their adventure sees them sign up as legionaries, and eventually track the two to Rome, where they are to be thrown to the lions during a grand show to honor Caesar's many successful conquests.
The film was followed by Asterix in Britain, made by the same studio, with the same main voice actors in French.
---
Asterix Versus Caesar provides examples of:
---