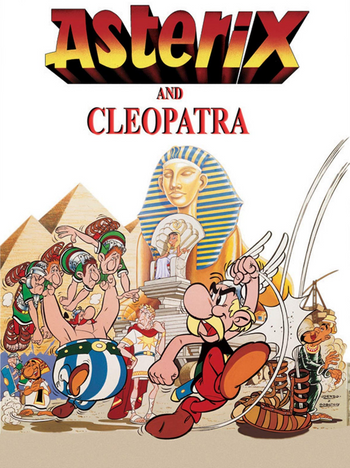 Asterix and Cleopatra (Astérix et Cléopâtre in French) is a 1968 French-Belgian animated film based on the Asterix comic book series and directed by the latter's creators themselves, René Goscinny and Albert Uderzo, in collaboration with Pierre Tchernia on the script. It is an adaptation of the album of the same name. Gérard Calvi composed the soundtrack again after his work on the previous film, Asterix the Gaul.
Julius Caesar provokes Cleopatra VII by saying Egyptians are decadent and not capable of building anything significant anymore. Cleopatra retaliates by betting she can have a gigantic palace built for him in three months. To do so, she tasks the (pretty inept) architect Edifis with it, and shall he fail to pull it off, she would feed him to her crocodiles. Edifis remembers that his distant friend, the Gaulish druid Getafix, can make a potion that grants tremendous strength, and sets sail for his village. Getafix agrees to follow him in Egypt, and so do Asterix and Obelix. Once they get to Egypt, the Gauls have to thwart the attempts by both rival architect Artifis and the Romans to ruin the palace's construction.
For the tropes common to both the comic book and the film, see the comic book's page.
---
Tropes specific to the film include:
---