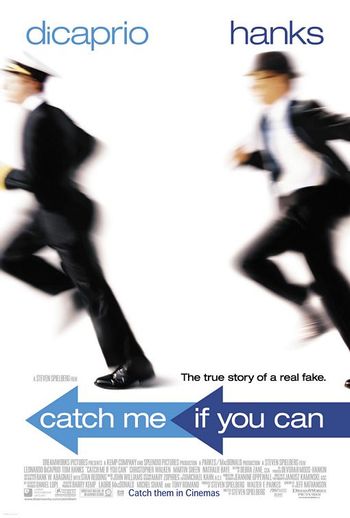 Catch Me If You Can is a 2002 Steven Spielberg film based on the 1980 memoir of the teenage con artist Frank Abagnale Jr.
Frank Abagnale Jr. is a teenager in 1960s New York whose humdrum life is disturbed when his father goes bankrupt and his parents divorce. Frank, who has already shown a talent for mimicry, embarks on a new life as a teenaged con artist, passing himself off as an airline pilot, a doctor and a lawyer while he's still too young to drink. It's Based on a True Story, and the real Frank Abagnale Jr. was on hand as a consultant and was enthusiastic about its production.
Leonardo DiCaprio stars as Frank Jr., with Tom Hanks as FBI agent Carl Hanratty, who is chasing Frank, and Christopher Walken as Frank Sr. Amy Adams has one of her first big film roles as Brenda, a young volunteer nurse who gets engaged to Frank. A young Elizabeth Banks appears briefly as a bank clerk who's attracted to Frank.
In 2009, a musical adaptation of the film premiered in Seattle before debuting in Broadway in 2011. Aaron Tveit and Norbert Leo Butz originated the roles of Frank and Carl.
---
This film provides examples of:
---