open/close all folders
Heroes
Dave the Barbarian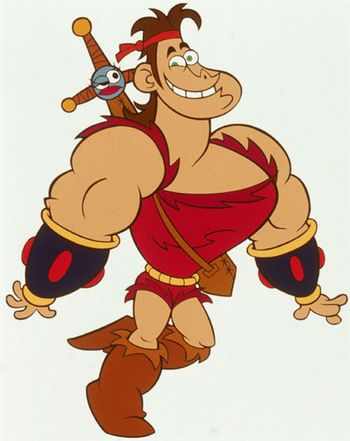 The middle child and only brother of the three siblings. Dave is a huge, muscular barbarian war-prince who is very sensitive to pain and would rather knit and cook than fight evil.
---
Princess Candy
Voiced by: Erica Luttrell
The oldest child of the three siblings. Left in charge while the king and queen are away, Candy has a contemporary "Valley Girl" attitude and would rather shop and hang out than rule a kingdom.
---
Fang
The youngest of the three siblings. Fang is a very rambunctious and uncivilized tomboy who loves to smash things. She has long red hair in a ponytail.
---
Uncle Oswidge
Dave, Fang and Candy's uncle. A rather clumsy sorcerer who usually wreaks havoc with his spells rather than being useful.
---
Lula
Voiced by: Estelle Harris
Dave's shrill, impatient, sarcastic enchanted sword.
---
Faffy
The family's dumb pig-shaped pet dragon. Unlike most dragons, he breathes lightning and is domesticated, plus he does not have a tail.
---
Twinkle the Marvel Horse
Candy's magical flying steed. He spends most of his time alone in the stables, and the isolation... hasn't been good for him.
---
Villains
Dark Lord Chuckles the Silly Piggy
Voiced by: Paul Rugg
An evil pig with a high-collared cape (and equally high voice) bent on ruling Udrogoth and the main antagonist of the show. Chuckles lives in a castle on the outskirts of the kingdom.
---
Malsquando
An evil sorcerer and Oswidge's rival. He has an obsession with taking over the world and making money.
---
Quosmir
Voiced by: Michael McShane
The god of freshly laundered trousers, overused punctuation and possibly other random and ridiculous things.
---
Princess Irmaplotz and Queen Zonthara
The evil sorceress princess of Hyrogoth that is trying to destroy Dave (or more likely she just wants to make Dave's life miserable). Her mother Zonthara is the ruler of Hyrogoth, and keeps on trying to teach Irmaplotz to be more evil. Her father is good, making her half-evil.
---
Ned Frischman
A nerd who works at a pants factory in the year 1994. He gains a very powerful zipper which he uses to travel back into time to attempt conquering the world by using the advanced technology of the future, such as the Game Guy, and a joke book from the 1940s.
---
Others
King Throktar and Queen Glimia
The proper rulers of Udrogoth, and the parents of Dave, Candy and Fang. They are away fighting evil around the world, though they can communicate to their children via Oswidge's crystal ball, which seems to operate like a phone.
---
The Narrator
The narrator of the series. He has never been seen in an episode.
---