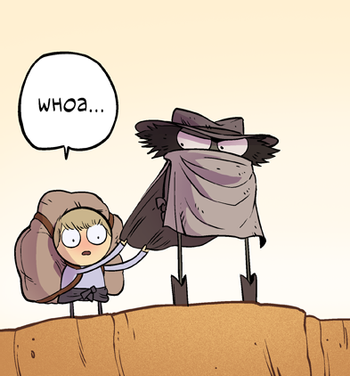 Yes... urgent message to the king. "She wasn't buried deep enough."
BACK
is another webcomic written by loveable scamp KC Green (Gunshow) and drawn by his friend Anthony Clark which follows the adventures of Abigail on her quest to end the world.
"Wait, what?"
The comic keeps KC's typical charm and humour and combines it with Anthony's clean art. The comic chronicles Abigail's journey from town to town, with the end goal of reaching King Dang's castle. A young druid called Daniel started following her after she saved his town, serving as a guide for Abigail. He hopes to convince her to save the world rather than end it but has a hard time dealing with Abigail's attitude.
Needs some wiki magic help with typing and indexing.
BACK contains examples of
---