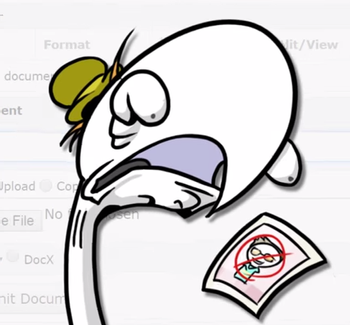 Hello, and welcome to TV Tropes! Now that you're a troper, it's time to learn the ins and outs of the site!
Why don't you start out by writing a description for something below?
Welcome to... is a series of videos by Brendan Blaber, each centering on a specific website under the guise of an instructional video for using said site. While it does teach you a lot about the site, most of the videos are dedicated to mocking the hell out of the site and its users.
The videos (all of which can be found here
) include:
Welcome to DeviantArt!
Welcome to Facebook!
Welcome to YouTube!
Welcome to Twitter!
Welcome to Tumblr!
Welcome to Vine! (April Fools' Day 2014)
Welcome to FanFiction.Net! (and Wattpad)

This episode also has a "Welcome To Extras" side video, showing off outtakes and deleted scenes.

Welcome to Steam! (April Fools' Day 2015)
Welcome to Horror! (Joke Halloween 2015 Special)
Welcome to Kickstarter! (premiered at YoumaCon 2015)
Welcome to YouTube Comments! (500k Subscriber Special)
Welcome to Webcomics! note
Jello has decided to end the series after Webcomics, in order to focus on his other projects like So This Is Basically..., though he has stated that he'd still do the occasional "Welcome to YouTube Comments!" compilation video.
Great job! Now try adding some tropes! That's what the site's named for, after all.
---
---
What's that? You want to know what happened to Troper Tales and Fetish Fuel?
... We don't talk about those anymore.
---