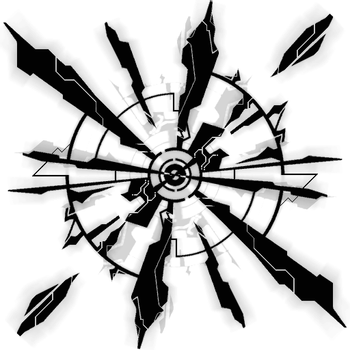 AN AWESOME PRAYER IS CONFLICT WITH US
KEEP YOUR DIGNITY
Hellsinker is a doujin shooter developed by the circle Ruminant's Whimper. A cursory look at a video or image of the game will show you that it is rather complex. Eschewing the shmup tradition of simple mechanics, Hellsinker has at least 10 bars on the heads-up display, each with at least one type of item that fills or empties them. To be sure, it is not a game for the casual player.
Even in the original Japanese, the game's story is confusing. From what has been gathered, the game is set in a human colony after a central device (known as "The Device") breaks down for mysterious reasons. Most people die, but a small group manages to use small fragments of the Device to survive. The group of survivors gradually rebuild, and begin to track down more parts of the Device to understand the technology of the precursors. A group known as the Graveyard, which includes the player characters, tries to go to a part of the Device known as the Cardinal Shaft located on the artificial island "Paradise" to do research. However, they encounter hostile robots called Prayers and were repelled on two previous occasions. Hellsinker focuses on the third attempt.
There's also something about a lost cat waiting for its owner.
As you might guess, much of this game remains mysterious, even many years after it's been released. If you want a game that really gives you a genuine sense of discovery, go for Hellsinker - just expect to sink some time into it.
Now has a Character Page.
An english patch is available here
by Gensokyo.org.
The English patch became official as a result of the game being released as part of Let's Build A Doujin Bundle 2!
. It could be purchased from October 16, 2013 to October 27, 2013.
Information on the game mechanics can be found on this wiki
(Japanese) and this forum thread
(English).
An updated Steam release
was released on July 20, 2019 with Henteko Doujin acting as the publisher. It features a training mode with extensive tutorials and practice stages, update for more modern PC conveniences such as HD rendering and XInput controller support, and a few updates to the game's UI.
Despite the name, this game has nothing to do with Hellraiser or Helltaker, or Helsinki, the capital of Finland.
---
This game provides examples of:
---