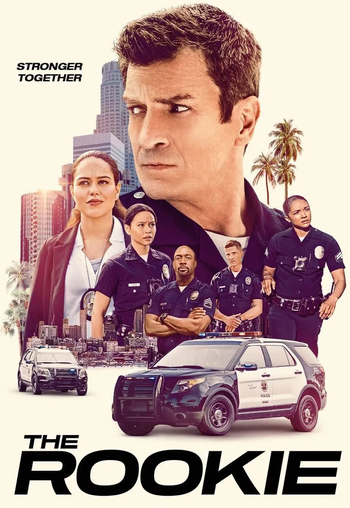 The Rookie is a police series that began airing on ABC on October 16, 2018.
John Nolan (Nathan Fillion) is a 45-year-old facing a tough divorce. After a life-changing incident in which he stalls a bank robber long enough for the police to arrive, he joins the LAPD as the oldest rookie officer on the force. With him are fellow rookies Lucy Chen (Melissa O'Neil) and Jackson West (Titus Makin Jr.). With training officers Talia Bishop (Afton Williamson), Tim Bradford (Eric Winter) and Angela Lopez (Alyssa Diaz), the trio handle life as cops and the conflicts.
The show is currently airing the fifth season, where Nolan is now himself training a rookie. Additionally, a spin-off entitled The Rookie: Feds was picked up following a two part Backdoor Pilot in the fourth season.
---
The Rookie includes examples of the following tropes:
---