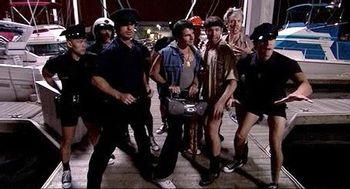 Private strippers show up in sitcomland all the time. Male or female, they come dressed as police officers and are mistaken for them (the protagonist is often accidentally handcuffed to them), while real cops (or some other authority figures) are thought to be strippers, leading the protagonists to rip their shirts off.
Compare Dirty Harriet where a character poses as a sex worker to solve a case. See Mistaken for Clown for a more innocent variant.
---
Examples
open/close all folders
Advertising
Inverted with a Jack in the Box commercial for breakfast platters, in which Jack approves of a policeman, a firefighter, and a construction worker being the hardworking people who would eat them. Cut to said figures baring all at a bachelorette party.
Comic Strips
Reversed in a strip by Sergio Aragones in Mad Magazine. A female police officer storms into a room full of bad guys—and is woefully outnumbered. She then backpedals, pretends to be a stripper, gets a tip, waves goodbye, then runs to the police car and radios for more backup.
Films — Animation
Films — Live-Action
Literature
In one of G.K. Chesterton's Father Brown mystery stories, the criminal gets rid of a policeman by convincing everyone at the house that the man is actually in costume for a pantomime show. He beats up the cop while the audience laughs at the slapstick comedy.
Live-Action TV
Radio
A sketch on That Mitchell & Webb Sound involves two playwrights struggling to find inspiration for a new farce, while the typical events of one unfold around them. This includes mistaking a policeman for a stripper (and then vice versa).
Video Games
In Dead Rising 2: Off the Record, Frank West mistakes Deidre Sanchez for a policewoman when he first sees her. She quickly explains that she's actually a dancer at The Peephole, and that's just her costume.
Mass Effect 2: If playing a female Commander Shepard, in the recruitment mission for Archangel, the mercenary you talk to to begin things mistakes her for someone who's trying to get hired as a stripper. She is entirely unamused.
Web Comics
Web Original
Western Animation
Family Guy: In one episode where the guys lose their memories, Joe sees the cop uniforms in his house and assumes that means that he's a stripper. Even near the end of the episode, he's still convinced of that.
In Home Movies, Coach John McGuirk mistakes a male cop for a stripper, who arrests him for not writing an essay.
Chief Wiggum of The Simpsons once had this happen with a bachelorette party, but decided to just go with it since he wanted the money.
Real Life
---