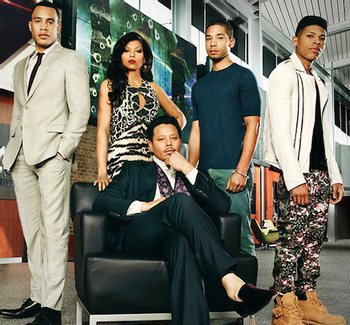 "I want Empire to be here long after I'm gone. I need to start grooming a successor. And it can only be one of you."
—Lucious Lyons, "Pilot"
Empire is an American musical drama television series. Debuting on FOX on January 7, 2015, it was co-created and produced by Lee Daniels and features music composed by Timbaland. Pitched as The Lion in Winter at a record label.
The show centers around a hip hop music and entertainment company, Empire Entertainment, and the drama surrounding founder and successful rapper Lucious Lyon (Terrence Howard), and his three sons: business-minded but bipolar Andre (Trai Byers), who will do anything to depose his brothers and impress his wife Rhonda (Kaitlin Doubleday); musically passionate Jamal (Jussie Smollett), the black sheep of the family thanks to his homosexuality, and aspiring rapper Hakeem (Bryshere Grey), Lucious' favorite because he takes after him the most. Wait, did we say that Lucious was the founder? Turns out that's actually his ex-wife, Cookie (Taraji P. Henson), who's just been released from prison after taking the fall for Lucious during their drug-running years and is hell-bent on reclaiming the company she believes is rightfully hers. Rounding out the cast is Vernon Turner (Malik Yoba), Lucious' business partner, and Anika Calhoun (Grace Gealey), Lucious' romantic partner.
The show revolves around Lucious' life caving in after Cookie's release brings his past sins back to haunt him, as well as his diagnosis with ALS prompting him to determine which of his sons should inherit the company. The two parents begin pitting the children against each other in the hopes that their favorite will gain control, while Lucious tries to prevent Cookie from revealing the more sordid elements of his past to the public.
On April 30, 2019, Fox renewed the show for a sixth and final season.
Has its own Character Sheet.
---
Tropes found in Empire are: