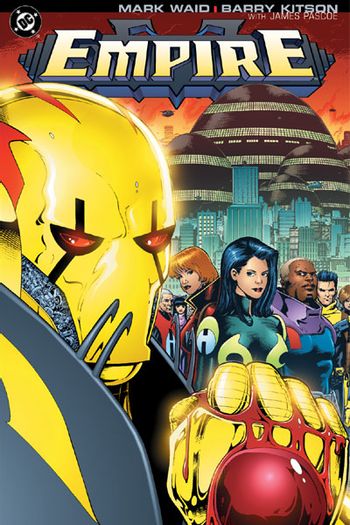 Empire is a comic book by Mark Waid and Barry Kitson about... well, Exactly What It Says on the Tin. A totalitarian Empire has conquered most of the world, led by the power-armored genius supervillain Golgoth. The world's greatest superheroes are all dead, and the last bastions of freedom are cut off, outmatched, and being overrun. Nothing can stop Golgoth's drive for total world domination.
Or can it? The Empire, while mighty, is not without its own problems. The bevy of psychopaths that make up the government's elite are constantly scheming to advance their causes over their fellows', and occasionally over their leader. Golgoth himself, meanwhile, has a weakness that his enemies are trying to exploit.
Empire is one of the few comics to do Darker and Edgier right. The art is immersive and the story, though grim, is a very competent look into how a world ruled by super-villains would actually work. The first two issues were published in 2000 by Gorilla Comics, a brief-lived imprint of Image Comics. After Gorilla folded, the series was picked up (in 2003) and completed by DC Comics, although the events and characters in it are distinctly separate from the main DCU.
---
This comic contains examples of: