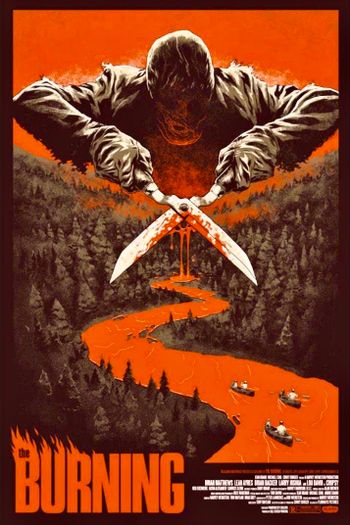 Don't look, he'll see you.
Don't breathe, he'll hear you.
Don't move... you're dead!
— The trailer
The Burning is an American Slasher Movie from 1981, conceived and produced by an early-career Harvey Weinstein (yes, the same person you're thinking of), written by Bob Weinstein and Peter Lawrence, and directed by Tony Maylam, with special effects by Tom Savini and a music score composed by keyboardist Rick Wakeman. The cast includes Jason Alexander, Fisher Stevens, and Holly Hunter in their film debuts.
Five years after a group of kids accidentally set Camp Blackfoot's cruel caretaker, Cropsy (Lou David), on fire—the result of a prank involving a wormy skull with candles for eyes—he gets released from the hospital. After stabbing a prostitute, Cropsy heads back to the camp with a pair of garden shears and begins offing campers left and right.
A former Video Nasty due to some rather bloody death scenes (most notably the infamous raft sequence, which ended up being heavily censored in order to get an R-Rating), the film is mainly known for its lack of availability for many years; the VHS release quickly fell out of print, causing the film to gain cult status amongst horror fans who were lucky enough to see the film. After years of being in limbo due to rights issues, it finally saw an uncut DVD release in 2007.
---
This film provides examples of:
Between My Legs: When Cropsy confronts Sally, she is initially shown between his legs before he goes for the killing strike.
Big Bad: Cropsy, who is out to kill some kids for the pain he had to endure.
Evil Plan: Cropsy seeks to avenge the prank that caused him to be horribly burned, and is willing to kill innocents to do it.
Fingore: Woodstock gets his fingers cut off by Cropsy during the raft massacre.
Fire-Breathing Weapon: Cropsy whips out a makeshift flamethrower when he confronts Todd in his hideout.
Sex Signals Death:

Sally and Glazer are killed shortly after they had sex. Karen and Eddy avert this trope when Karen refuses to have sex with Eddy, but both end up killed anyway

.
Shear Menace: Cropsy enters the Camp Stonewater grounds with a pair of new gardening shears at hand.
---