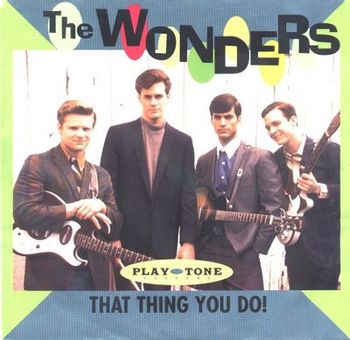 That Thing You Do! is a 1996 comedy movie written and directed by Tom Hanks, who also appears in a starring role.
The story is set in 1964 in Erie, PA, not long after The British Invasion. Reluctant appliance salesman / fervent amateur jazz drummer Guy "Skitch" Patterson (Tom Everett Scott) is drafted into a garage band formed by friends Jimmy Mattingly (Johnathon Schaech) and Lenny Haise (Steve Zahn), as a one-time favor — their original drummer broke his arm the day of the big local talent competition, and they need a replacement.
Naming themselves the 'Oneders' (as in One-ders) on the sound-for-the-time logic that a Punny Name worked for The Beatles, the band intends to perform a slow ballad written by Jimmy and Lenny called "That Thing You Do". The night of the comp, however, Guy leads them off at a much faster tempo than they'd rehearsed, giving them no choice but to transform it into a snappy pop number. Auteur Jimmy is upset, but the crowds are seen dancing in the aisles, and they win the talent show.
The new version takes off, earning them a gig at "that Italian place down by the airport" and inspiring them to make a record to sell at the door. Eventually, this attracts the attention of a local talent scout, who in turn introduces them to Mr. White (Tom Hanks), a record company executive who thinks he can take them to the top — but only if they agree to change their name.
With their record zooming up the charts, hordes of screaming fans greeting them at every stop on tour and a gig on The Hollywood Television Showcase, the sky's the limit for the newly renamed Wonders... until they start trying to cope with success... and Guy develops a not-unreciprocated interest in Jimmy's girlfriend Faye Dolan (Liv Tyler).
---
That Thing You Do contains examples of:
---