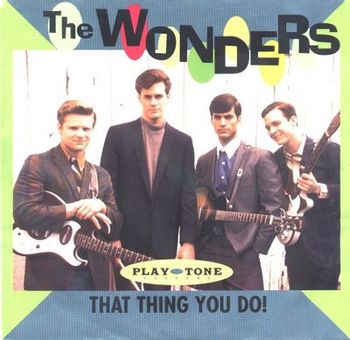 "A hit record is like a stew. All the ingredients have to come together just right. Otherwise, it's just soup."
—Phil Horace
That Thing You Do! is a 1996 comedy movie written and directed by Tom Hanks, who also appears in a starring role.
The story is set in 1964 in Erie, PA, not long after The British Invasion. Reluctant appliance salesman / fervent amateur jazz drummer Guy "Skitch" Patterson (Tom Everett Scott) is drafted into a garage band formed by friends Jimmy Mattingly (Johnathon Schaech) and Lenny Haise (Steve Zahn), as a one-time favor — their original drummer broke his arm the day of the big local talent competition, and they need a replacement.
Naming themselves the 'Oneders' (as in One-ders) on the sound-for-the-time logic that a Punny Name worked for The Beatles, the band intends to perform a slow ballad written by Jimmy and Lenny called "That Thing You Do". The night of the comp, however, Guy leads them off at a much faster tempo than they'd rehearsed, giving them no choice but to transform it into a snappy pop number. Auteur Jimmy is upset, but the crowds are seen dancing in the aisles, and they win the talent show.
The new version takes off, earning them a gig at "that Italian place down by the airport" and inspiring them to make a record to sell at the door. Eventually, this attracts the attention of a local talent scout, who in turn introduces them to Mr. White (Tom Hanks), a record company executive who thinks he can take them to the top — but only if they agree to change their name.
With their record zooming up the charts, hordes of screaming fans greeting them at every stop on tour and a gig on The Hollywood Television Showcase, the sky's the limit for the newly renamed Wonders... until they start trying to cope with success... and Guy develops a not-unreciprocated interest in Jimmy's girlfriend Faye Dolan (Liv Tyler).
---
That Thing You Do contains examples of:
Another slightly oblique Beatles Shout Out; "That Thing You Do" starts off as a slow ballad, but when Guy ups the tempo of the drumbeat, turning it into a quick-paced pop song, it becomes a very popular #1 hit. Something similar happened with "Please Please Me", which was originally written as a Roy Orbison-style crooner, but it didn't really click with the band and their producer, George Martin, until they sped up the tempo — and it ended up becoming the Beatles' first ever #1 hit.
The aerial shot of the band running and jumping on a map of America on a blacktop is very similar to a scene from A Hard Day's Night where the Beatles run and jump on a concrete pad outside a BBC building.
The bass player disappearing and being replaced by a session player for the live TV broadcast and for (what would have been) their first album recording refers to two incidents within the Beatles career. The first is to the recording of "Love Me Do", where Ringo Starr (who had recently been hired by the band after Pete Best was fired) was not allowed to play on the recording by George Martin, who had already hired a session drummer and did not want to rely on an unknown. The second was during the band's 1964 world tour, when Ringo (again) fell ill and was unable to play, requiring the band to temporarily hire another session drummer (Jimmie Nicol) to fill in for him. The latter is also alluded to by Faye falling ill when the band travels to California and missing several of the gigs they do.
---