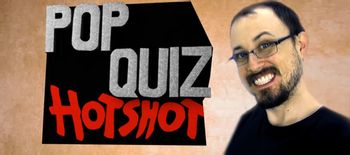 "Welcome to Pop Quiz Hotshot, where funny gets you money, contestants are kidnapped and the loser... dies."
— Critic
A game show made by Channel Awesome, hosted by Brad Jones, and starring two guests competing against each other, Fard Muhammad as General Anesthetic, Barney Walker as Colonel Kink, Tamara Chambers as Miss Stockholm, and The Nostalgia Critic as sort of a final boss for the contestants to have the last round with.
The gimmick is Brad Jones is crazy, kidnaps people to be on his game show, and losers die. After getting many Sarcasm Mode insults thrown at them.
...or at least until the second episode.
No Brad,
no Colonel Kink, no Tamara, and Critic is the one hosting and kidnapping people instead. He's helped by General Anesthetic, gets clingy with the contestants and anyone who loses still dies.
Funded by Indiegogo contributions in 2013, the pilot episode finally came out
on March 31st, 2015.
---
This show displays examples of:
---