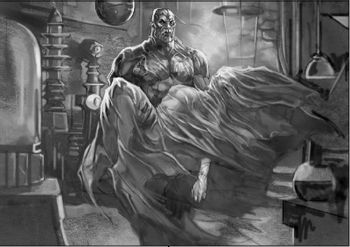 We know we're not real. It's like playing house, like befriending shadow puppets. It becomes frustrating, then maddening. No one wants the company of monsters, not for long.
Not even other monsters.
The fourth game in the Chronicles of Darkness setting, released in 2006, and the first of its 'limited cycle' games, which had a set number of sourcebooks. Promethean had the core book and four Sourcebook follow-ups, Pandora's Book, Strange Alchemies, Magnum Opus and Saturnine Night, with a Ready-Made PCs PDF supplement added later. An updated second edition was released in 2016 that shuffled around some of the Lineages and Refinements, clarified rules, and made the game more playable for a wider audience.
The name of Promethean refers to its central characters, reanimated corpses fueled by "the Divine Fire", "Azoth" in alchemic terms; the Divine Fire is often affiliated with the fire Prometheus stole from the gods, dubbing all who are fueled by it Prometheans. These creatures are cursed to suffer the unending hatred of the human race, and must struggle for survival against both mankind's rejection and the rejection of the earth itself. What's worse, Prometheans are also hunted - Pandorans, creatures born from Promethean creation rites gone wrong, desire to devour the Created.
Despite the description, this game is actually optimistic. Prometheans follow what they call "the Pilgrimage", a quest to refine themselves into something more closely resembling humans. They learn to master the Azoth within them and the nature of humanity, with the goal of someday completing "the Great Work": redemption, the final transformation into human beings.
Assuming, of course, they can avoid giving up in the face of the world's spite and taking up the Refinement of Flux.
Notable perhaps because a viable group of characters in the game consists of Frankenstein's Monster, a marble statue imbued with life, a hypertech nanite colony in the shape of a man, a mummy, and a golem complete with the name of God on his forehead, and they can go beat up a radioactive zombie-making (and also radioactive-zombie making) thing brought to life by a nuclear bomb and guarded by living cancers, because you were told to by a blood-drenched angel with a flaming sword and six wings. And despite that description, it's actually a rather deep game of personal horror and on the nature of what makes a man. Possibly the strangest of the Chronicles of Darkness games, Promethean requires more investment between Storyteller and player than the norm, and is thus recommended for smaller groups.
The various Splats of Promethean are as follows:
The Lineages: The inborn classification of the Created, representing the way in which the Promethean was… well, created. Each Lineage is also associated with one of the medieval Elements and an associated bodily Humour.
Frankensteins: Created by lightning (representing the divine Fire) and overflowing with the Choleric humour, this Lineage can trace its line back to Frankenstein's original monster itself. The Wretched are freakishly strong, and some can reassemble their bodies with pieces of other corpses. Their Torment manifests as unreasoning vengeful rage, their Wasteland results in constant thunderstorms and endless fires, and their Disquiet results in pity and fear, developing into full-fledged hatred and mania.
Galateids: Gifted with the breath of life and full of the Sanguine humour, Galateids are descended from Galatea, the mythological Greek statue brought to life by the goddess of love. Galateids can channel their gifts to improve their interactions with mortals (temporarily, of course - Disquiet always kicks in eventually), or even turn into statues themselves. Their Torment gives them a clinging, spiteful quality, at the same time hating those around them and needing them. Their Wasteland kills the air, draining it of oxygen and making it tiring and disorienting. Their Disquiet causes jealousy, possessiveness, and obsession.
Osirans: Brought to life by immersion with water, and drawing upon the tale of the resurrection of Osiris in Egyptian myth, Osirans are tied to the Phlegmatic humour. Whether or not they are truly descended from the god of myth, the Nepri (as they are sometimes called) can draw upon deeper reserves of life than other Created, returning from death in ways other Prometheans can't manage. Other Osirans maintain a tie to the dead after creation, with the ability to ask a corpse three questions and receive answers. Their Torment removes their emotions, leaving them coldly amoral. Their Wasteland sours the water in the area, leading to droughts and leaving what little moisture remains stagnant and dead. Their Disquiet causes wild emotions and mood swings in surrounding mortals.
Tammuz: The line that changed the most between first and second edition. Both versions rose from death after being buried in the earth and suffused with the Melancholic humour. The first edition Golems were all created for servitude and with a hatred of slavery. In the second edition, they are known as the Named, and became workaholics without rest who also hold a deep fascination with language. All Tammuz possess incredible endurance, either the ability to endure physical pain or to endure mystical assaults no other could endure. Tammuz Torment has two parts – an uncontrollable frenzy, followed by a black depression. Their Wastelands result in sinkholes and land growing infertile. Their Disquiet causes others to depend on the Tammuz, clinging to him and growing resentful.
Ulgan: Also known as Orpheans or Riven, Ulgan are associated with the element of Spirit and the Ectoplasmic humour, and are created when another member of the Lineage imbues a body with ectoplasm, which calls spirits to tear it apart and reassemble it. Ulgan can innately see and interact with spirits, or can sing a song which lulls spirits and ghosts into a magical sleep. Ulgan Torment is an illogical, instinctual drive, much like a spirit's single-minded existence. Their Wasteland causes a thinning of the barrier between the spirit world and the mortal world. Their Disquiet results in spiritual possession or devolution into mindless routine in mortals.
Zeka: A recently developed Lineage associated with tainted, radioactive expressions of the other elements and humours. A Zeka might be able to raise radioactive zombies from the bodies of the dead. Others can become scorched shadows on walls, like the silhouettes of the victims of atomic bombs, or mystically sense and home in on radiation, using it to regain Pyros. A Zeka's Torment is manifested as an intense burst of hatred and the need to destroy. Their Wasteland turns the surrounding area into a radioactive barren, much like fallout, and their Disquiet causes intense and irrational paranoia.
Unfleshed: The Unfleshed are Prometheans made of inanimate objects: as simple as a mannequin or collection of prosthetic devices, or as complicated as a factory machine or android. The Unfleshed originally appeared in Saturnine Night, but the second edition promoted them to a full-fledged Lineage, complete with their own humour, oil. They have inherited the slave-like nature of the Tammuz, originally made as tools only to serve a purpose. Unlike a thoughtless device, Unfleshed recognize their own sentience and demand respect accordingly, even if they don't quite understand why. Unused to emotion, they alternate between cold logic and uncontrolled outbursts.
Extempore: The Matchless are not so much a Lineage as a collection of unique Lineages that don't match any others, born when sheer random chance causes the spontaneous formation of a Promethean. It may happen in the wake of a natural disaster (1e's sample Extempore, Bin Gereh, was born from a powerful earthquake), out of extreme emotion or need, or even during a regular Linage creation rite that goes just wrong enough to make an aberrant Extempore, but not quite wrong enough to create a Pandoran. They may have the same humours as a regular Promethean or something altogether unique, such as lava or seawater. There may not even be a body involved, their physical form coming from an unknown source of matter. They often feel the most lost among the Created since, unlike the other Lineages, they have no examples to follow and are truly on their own.
In addition to those, there are the various optional ways to create a Promethean, such as Constructsnote , when a Promethean from a standard Lineage decides to create another using inanimate materials and succeeds; Prometheans created using an animal rather than a human body, with most of the limitations that come with such those forms; the Prometheans created when a demiurge dreams so long and clear the dream becomes real; and the Prometheans created by demiurges from the other supernatural races of the World of Darkness and partaking of their nature. There are also lost Promethean lines that have died out, usually by their method of creation being lost or forgotten, or the circumstances that allowed them to be born no longer existing. For example, another Lineage based on the Fire-element existed before the Frankensteins, the Amirani, but with the last Amirani's death, the knowledge of how to create them has been lost or destroyed, and no subsequent demiurge is known to have replicated the process.
The Refinements: The chosen Splats of the Prometheans. Unlike other species in the World of Darkness, Refinements aren't social constructs so much as philosophies. There are so few Created in the world that a given Promethean may live out his entire pseudo-life without ever meeting another of his kind, let alone one following the same Refinement. Refinements are divided into simple and complex; a Promethean must always start their journey on a simple Refinement, and cannot have completed more complex Refinements than simple ones.
The five simple Refinements that are common among the Created:
Aurum: The Refinement of Gold (Mortality). Prometheans who follow this Refinement believe that by studying and interacting with mortals, they can learn how best to be mortal – and thus, to complete their Pilgrimage.
Cuprum: The Refinement of Copper (Self). This Refinement involves solitude and meditation alone among nature as a way to understand one's place in the world and to tame one's own Wasteland.
Ferrum: The Refinement of Iron (Corpus). This Refinement teaches that Prometheans should train and strengthen their bodies – a strong soul, they believe, cannot exist without a strong vessel.
Plumbum:note The Refinement of Lead (Source). This Refinement teaches that only by truly understanding what he is now can a Promethean ascend to something new. Followers of Plumbum seek knowledge of Prometheans throughout history and study their own flawed bodies, seeking to know what they are so that they can become more.
Stannum: The Refinement of Tin (Torment). Prometheans who follow Stannum embrace the pain of their Torment and Disquiet, vengefully lashing out at those who have wronged them. This is the easiest path for (non-Zeka) Prometheans to fall into, and the hardest to leave.
The Five Complex Refinements that can be taken later in a Created's journey are:
Aes: The Refinement of Bronze (Aid). This Refinement focuses on assisting others who seek to complete their Pilgrimage. They believe that by aiding others on the path, they may find their own way.
Argentum: The Refinement of Silver (Mystery). This unusual Refinement depends on studying and emulating other supernatural creatures in the World of Darkness – these other beings were once human, and so the Argentum-followers believe that by studying the process by which they were transformed into something inhuman, the Promethean might reverse the process.
Cobalus: The Refinement of Cobalt (Impurity). Cobalus is the study of impurity and imperfection. Those who follow this Refinement study what happens during their failures – times of Torment, massive Wastelands and outbreaks of Disquiet – to learn what may be done to resolve these imperfections.
Mercurius:note The Refinement of Quicksilver (Pyros). Those who follow Mercurius study the nature of the Divine Fire itself, believing that by analyzing and manipulating it, they may be able to stoke the Fire within themselves into a true soul and transcend to humanity.
Phosphorum: The Refinement of Phosphorus (Light). This Refinement focuses on living life to the fullest by pushing it close enough to the edge to understand mortality. Followers of Phosphorum are driven to burn their brightest in the face of death or flame out spectacularly trying.
There is one final Refinement, one that is seen as a path of denial or failure.
Centimani: The Refinement of Flux. Members of this Refinement turn away from humanity and embrace their inhuman natures, becoming true monsters. For some, this is chosen because the Centimanus has lost faith in the possibility of the New Dawn. In the first edition, some rare few were allowed to see this as one more path to humanity; there are monsters among mortality, after all, and perhaps the Promethean can learn to become human by first studying what humans are not. However, second edition makes it clear that any Promethean who falls on to Centimani has failed; they have arrested their Pilgrimage as long as they remain here, and may not make any progress towards their Magnum Opus until they return to one of the proper Refinements.
Terminology: Prometheans each belong to a Lineage descended from a Progenitor created by a human Demiurge. The five in the first edition core claim descent from Frankenstein's Monster, Galatea, Osiris, Tammuz and Ulgan, but more exist; the Zeka are radioactive, the Unfleshed are made from robots and machines rather than human corpses, and there are other, rarer ones which can be created by freak occurrences. They travel in groups called throngs. They follow one of ten Refinements to focus their Pilgrimages. Their powers are alchemical Transmutations fueled by their internal store of Pyros; Pyros in turn is empowered by their Azoth. Their Karma Meter is Humanity, their ability to comprehend and mimic human behavior and morals (though as of 2E, this is replaced by Pilgrimage, which is a measure of progress on the Great Work). All Prometheans follow a Pilgrimage to find humanity, without clear direction; if they find their way successfully, they may achieve their Great Work, or Magnum Opus, and become fully human.
---
This game contains examples of:
Evil Counterpart: The Pandorans themselves exist as foils to the Promethean condition and Sublimati darkly invert the personalities of the Lineages accordingly: Pandorans that would have been Wretched love to burn prey, Pandorans born of Tammuz failure love to enslave them, Galateids are hounded by beasts who hate beauty, and so on.
Existential Angst: You're an abomination born out of a ritually defiled corpse, reanimated by magic sourced from ethereal beings of questionable motive, cause horrific damage to the environment, will motivate every human you meet to hate you, pained by the absence of a soul, will motivate every human to destroy you utterly if they see your real form, persecuted by other ethereal beings of violent motive, preyed on by monstrous creatures that are abominations born by abominations like yourself who made a mistake when attempting to birth more abominations like yourself, subject to a cosmic scale karmic punishment system with an ironic streak, tempted to take up a blatantly evil philosophy that will alienate you from others of your kind, and bound to follow a vaguely defined path which demands you to create another abomination in your image to progress, taking years or even centuries to attain your promised reward. All of this to become a feeble, mortal human who potentially retains no memory of your struggle against the cosmos, with nothing but a human soul to prove your worthiness. Enjoy!
Luck-Based Mission: The Pilgrimage is partially this: while a lot of it depends on the player making good choices, the final obstacle to becoming human requires at least a few lucky die rolls.
Masquerade: If you don't follow it, you're screwed. Really. Screwed. Even if a Promethean tries to do normal, human things, like buy a house, get a job, interact with neighbors and other people on a regular basis, Wastelands and Disquiet will eventually lead to Torches and Pitchforks being assembled against the Promethean in question. Breaking the Masquerade just makes it happen faster.
Metaplot: There's a free introductory scenario on DriveThruRPG, and each of the first edition books have a fully-fleshed out story module in the last appendix. Strung together, these form a narrative that describes the misadventures of a throng and at the end of the chronicle features a firestorm engulfing post-Katrina New Orleans.
Mix-and-Match Man: Frankensteins require at least two different corpses to create. This is optional (and even occasionally necessary) for other Lineages, like Galateids, for example, who require flawlessly beautiful bodies (no matter how many people the parts come from).
As a Continuity Nod and Beethoven Was an Alien Spy one town, implied to be Centralia, Pennsylvania, became a wasteland due to Frankenstein's monster staying there on orders from the qashmallim.
2nd Edition ramps this up to eleven: Promethean Disquiet, and Wastelands, are effectively Azothic radiation poisoning. They're literally humanoid health hazards.
Weak to Fire: The Divine Fire that animates a Promethean overloads and goes out of control when exposed to mundane fire. As such, fire deals aggravated damage to Prometheans.
Weak Sauce Weakness: In order to refill their pool of Pyros Prometheans have to follow strict rituals when they rest, from sleeping immersed in earth, to falling asleep next to a lit fire, or hearing people's voices (human or Promethean, TVs, radios or recordings don't count) talk as they fall asleep. For some this isn't a problem, but being woken-up requires them to fulfill the requirements again in order to get themselves recharged. The Zeka naturally have more demanding needs, but some of the unique NPCs in the books have crippling versions such as the vampire Promethean that can only sleep in a specific patch of dirt that is barely large enough for him to fit within.
Zombie Apocalypse: Some Zeka have the inherent ability to create radioactive zombies from corpses. Get an exceptional success, and the zombies are infectious...
---