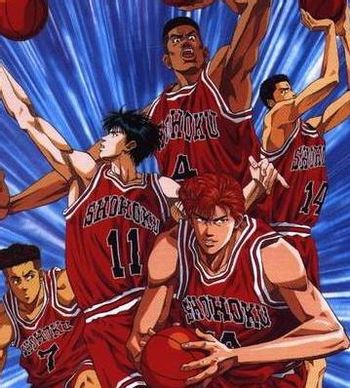 "I want to play basketball..."
Hanamichi Sakuragi is an incredibly tall red-haired Jerk with a Heart of Gold (the "gold heart" part often hidden from the public) and a bit of a delinquent, who has been rejected by fifty girls while in Junior High School due to his fearsome fame. The last one, Yoko Shimamura, confesses that she rejected him because she was in love with Oda, a player from the basketball team, so Hanamichi hated that sport with a big passion. Naturally, when in his very first day in High School someone asks him if he likes basketball, he would be very happy to turn to the idiot and give him a big headbutt...
Only to find, when he turns, that the one asking the question is a girl. A very pretty girl, in fact.
The pretty girl in question, Haruko Akagi, is a basketball fan as well as a former player, and Hanamichi, who has instantly fallen in love with her, lies saying that he is an expert in the sport. Although she is not fooled, she finds that Hanamichi has a hidden natural talent (by seeing him try to dunk and slam his forehead against the backboard no less), and encourages him to apply into the school's basketball team. Unfortunately, she also lets slip that she is in love with one Kaede Rukawa, an uber-talented rookie. Hanamichi is so crushed that he commits the mistake of insulting the sport just when the team captain was near.
After "winning" with a very bizarre play against the captain of the basketball team (who also happens to be Haruko's older brother Takenori Akagi), Hanamichi is finally accepted into the team. However, he is relegated to learning the basics, something that his bombastic personality and his "necessity" of impressing Haruko can't handle well. To make matters worse, his hot temper and his very open rivalry against Rukawa (who ignores him half of the time, and fights back the other half) makes the training sessions a living hell for everyone involved. It doesn't help that Rukawa has a legion of noisy fangirls who visit every training session and are very annoying to begin with.
However, between the addition of more players to the team (one of them after an especially gruesome fight involving gangs), the first games against other schools, and the obligatory regional and national championship, something weird begins to happen to Hanamichi. Although he is still a hot-tempered redhead and his hopeless onesided crush on Haruko doesn't diminish even a little, he soon finds that he actually does like basketball by himself and not as a way to impress someone else. More enough, he slowly begins to accept that he needs to practice more, and needs to play along with the team. Learning that is making him a better player. The basketball court is making him more mature...
Created by Takehiko Inoue and first published from 1990 to 1996 in Shueisha's Shonen Jump, Slam Dunk became an instant phenomenon throughout Japanese culture and set many standards in sports manga; becoming one of JUMP's pillars alongside Dragon Ball, bringing sales up to their record all-time high of over six million copies nationwide. It subverted the then-usual trope of instant sport genius with a main character who, while having a lot of potential, is a real newbie and is treated as one even when he makes astounding progress. It was also written under the real supposition that very few people would know the sport, using the protagonist road to learn a new sport as a way to explain the rules and tactics, and even adding extra blurbs for good measure.
The anime series was broadcast in Latin America in late 1990s-early 2000s, where it earned great popularity and is still very well-loved (partially because of a fantastic dub made in Mexico). The manga is still very popular in South Korea, where it is said it has inspired a generation of players. Reruns of the series also occur every few years in the basketball-obsessed Philippines, where the series is a favorite even among usually non-anime-watching demographics.
An English version of the manga was initially published in the short-lived English manga anthology Raijin Comics by Gutsoon! Entertainment from 2002 to 2004. After Gutsoon! went out of business, Viz Media eventually picked up the rights for the manga and begun serializing the series in the American Shonen Jump on September 2008. Additionally, Funimation is offering official subtitled episodes from Toei Animation on their video streaming site
.
On January 7, 2021, Takehiko Inoue announced on his Twitter account that the series would have a new movie, titled The First Slam Dunk, to be produced by Toei Animation. It was released in and out of Japan on December 3rd, 2022.
---
Tropes:
---