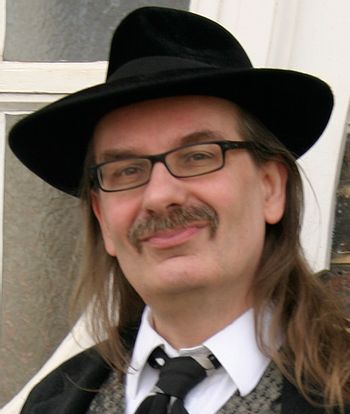 Kim James Newman (born July 31 1959) is an English author of often-satirical horror, dark fantasy, and science fiction. Probably his best-known work is the
Anno Dracula
sequence, an
Alternate History
in which Count
Dracula
succeeded in taking over England, played out as a
Massive Multiplayer Crossover
featuring just about every famous fictional vampire ever, as well as many other famous fictional characters.
Also of interest to tropers is his Diogenes Club sequence, concerning a secret service devoted to investigating the weird and improbable, from the return of Zombie Hitler to an insane murderer who devotes his kills to the goblins Snap, Crackle, and Pop. Each story is a stylistic pastiche of the investigator of the unknown and/or secret agent fiction of the period in which it's set, with much Lampshade Hanging and other playing with tropes.
Another recurring character, introduced in "The Original Dr Shade" but featured most completely in the novel The Quorum, is the satanic media magnate Derek Leech; any time a Newman character makes a Deal with the Devil, it's generally a Deal With Derek. Leech is an unholy No Celebrities Were Harmed mashup of Richard Branson and Rupert Murdoch who is secretly working toward some kind of consumer-culture-apotheosis apocalypse — and is also a big fan of the Xanatos Gambit; every single story he appears in, even the ones where he's being actively opposed, ends with him a little bit closer to achieving his goal.
Newman has also written some fiction under the name Jack Yeovil, including tie-in novels and short stories for Games Workshop's Dark Future and Warhammer settings. The character Genevieve Dieudonne, who appeared in much of his Warhammer work beginning with the novel Drachenfels, went on to also be a part of the Anno Dracula and Diogenes Club universes. He also wrote the BFI TV Classic book on Doctor Who, and is a regular film reviewer for Empire magazine, with his own column for Direct to Video releases (finding some neglected gems, but mostly dreck).
Newman is a long-time friend of Neil Gaiman; they collaborated on the hilarious and troperiffic non-fiction book Ghastly Beyond Belief, a collection of science fiction and fantasy quotations with plenty of snarky asides by Newman and Gaiman, back when they were both struggling journalists, and have made cameos in each others' work (Newman appears, in his other job as a film reviewer, in Gaiman's horror story "Calliope").
According to Neil Gaiman, he's a semi-professional kazoo player, used to carry a swordstick and is the original model for the Pinhead Cenobite. Newman contends that Gaiman is the model for the Chatterer, another Cenobite.
Works by Kim Newman with their own trope pages include:
<!—index—>
<!—/index—>
---
Other works by Kim Newman provide examples of:
---