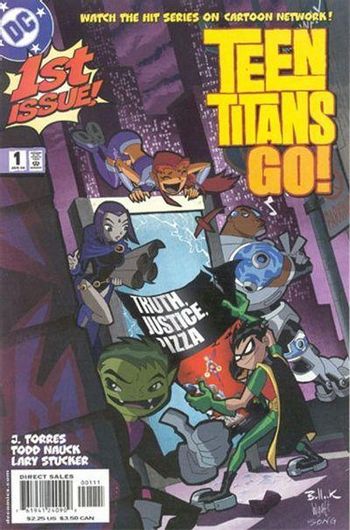 Teen Titans Go! is a comics series that ran for 55 issues from 2003 to 2008. It is based on the animated series Teen Titans, which itself is based on an older comics series of the same name. Like the cartoon, it is animesque and intended primarily for pre-teen boys, but did not shy away from somewhat darker material as the series progressed. It featured one-shot gags in the page margins presented by chibi versions of the cast, as well as continuations or expansions of plotlines from the series. Most issues, however, presented stand-alone plots.
As expected, the series features the Teen Titans: Robin, Starfire, Beast Boy, Cyborg, and Raven, five young costumed superheroes, and their adventures in Jump City. Some issues shift the focus onto secondary characters such as Larry and Terra, or even villains like the H.I.V.E. graduates, in addition to some characters from the original comics who did not appear in the cartoon, such as Rose Wilson, Geo-Force, and Wonder Girl.
If you're looking for the 2013 semi-revival cartoon, go here. It is also not to be confused with the digital comic with the same title based on the revived series, officially termed by DC as TTG volume 2.
---
Tropes:
---