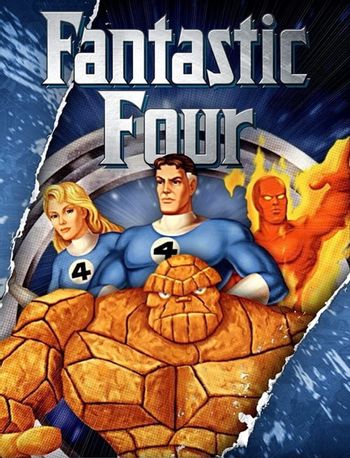 "Reed Richards is elastic,
Sue can fade from sight,
Johnny is the Human Torch
The Thing just loves to fight!
Just call the Four! Fantastic Four!"
Fantastic Four (1994-1996) was a 1990s Animated Adaptation of Marvel Universe Super Hero team the Fantastic Four. Shown as part of the syndicated "Marvel Action Hour" along with Iron Man: The Animated Series, it was retooled between the first and second seasons, gaining more complex writing, improved animation, and an Affably Evil Doctor Doom voiced by Simon Templeman.
Like the comics themselves, the Four in this cartoon would run into other Marvel superheroes. One episode saw the Four joining forces with Daredevil, Thor appears twice, and another episode saw them having to fight the Hulk, who was deceived by Dr. Doom (true to form). They also appeared in episodes of Spider-Man: The Animated Series (the three-part "Secret Wars" arc) and the Hulk's own cartoon (well, just the Thing; the three others went on vacation).
---
Provides examples of:
---
See
Fantastic Four
for a list of all the other works with this title.
---