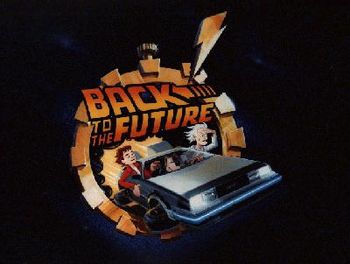 "Is there a Tannen in
every
century?"
— Marty McFly
An Animated Adaptation of the successful Back to the Future films, that ran for 2 seasons of 13 episodes each in 1991 and 1992 on CBS; it was the very first production of Universal Cartoon Studios, which would later go on to create Exosquad, Earthworm Jim, The New Woody Woodpecker Show, and a crap-ton of The Land Before Time sequels.
The series followed on from where the films left off. Doc Brown and his family (wife Clara, originally from the 1880s, and their sons Jules and Verne) have moved back to 20th Century Hill Valley, settling down in 1991. In addition to their flying, time-traveling steam engine, Doc has built a new DeLorean, and together with his friends Marty McFly and Jennifer Parker, Doc and his family Time Travel backwards and forwards through time in search of adventure, usually meeting up with ancestors or descendants of both Marty and the films' villain, Biff Tannen.
There were also random history tidbits thrown in between scenes.
The series has a section on the recap page which needs attention.
---
The series contains the following tropes:
Family of Choice: The Browns seem to treat Marty as an adoptive member of the family, even though it's not official. He's continually dropping in on them, one episode shows him in a photo with the official family, and all the members have a friendly relationship with him. It couldn't have hurt that he and Doc have been best friends for years by the time Doc met Clara and had Jules and Verne.
Floating Clocks: For some reason, this replaces the instantaneous temporal displacement seen in the movies. In the episode "Einstein's Adventure", a pair of crooks steal the DeLorean as a getaway car after a robbery, and accidentally travel to Sydney, Australia in 1790. When temporal displacement occurs, this is what they see for a few seconds through the windshield.
Floating Timeline:

The present is 1991, but despite 6 years passing since the events of the movie trilogy in 1985, Marty and Jennifer appear to be younger than they should. They at least put them in college—the first episode does make mention of Marty being in college, and makes a reference to DEAN Strickland—even if they were drawn looking like teenagers and seem to have become less mature than they were in the trilogy. Of course, Michael J. Fox still looks like he could play a teenager.
This is also the case in 2x02, which flashes back to Doc's college days in the late 1950's (when hula hoops were popular). Walter Wisdom, who knew Doc back then, even recognizes the flux capacitor as Doc's "old college dream." If you assume that maybe Doc went back to school for another doctorate sometime after 1955, he still seems younger than he should have been.note
Biff also looks younger then he did in the movie. There, the present day version had graying hair, a combover, and mild wrinklage. The animated incarnation has a brown buzzcut, a full head of hair, and no wrinkles, more closely resembling the teenage 1955 Biff than the middle-aged 1985 Biff. He also acts more like the bullying and loutish 1955 and original-1985 Biff than the cowed and meek revised-1985 Biff.
---