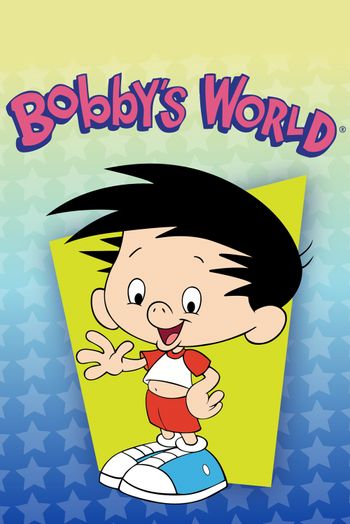 Bobby's World is notable for being the inaugural cartoon series of Fox's then-new Saturday morning block, Fox Kids in 1990. It would eventually become the longest-running program on the block, airing until early 1998. It was created by Canada-born comedian Howie Mandel as a co-production between him, Fox and Film Roman.
It was about an imaginative young 4 year-old boy named Bobby Generic, pronounced GEN-er-ick, who goes through life as a normal child while often misinterpreting and daydreaming about things that were said to him. He often carries around his stuffed spider named Webbly and is a huge fan of Captain Squash, who, more often than not, appears in his daydreams. Bobby is voiced by Mandel, in the child-like voice he used during some of his stand-up shows around the same time, while Captain Squash is voiced by Gary Owens, in his over-the-top superhero voiced first used in the original Space Ghost.
He lives with his family, consisting of:
Outside of the regular family members, there were also several recurring characters throughout the show's run, including:
Aunt Ruth, Bobby's aunt and Martha and Ted's older sister who's prone to smothering Bobby. Introduced in the first episode, she starts to appear more often starting in season three to help out during Martha's pregnancy. (Voiced by Susan Tolsky note )
Jackie Bodine, Bobby's neighbor and best friend introduced in the second season who, despite being more mature than Bobby, is in love with him and often kisses him. (Voiced by Debi Derryberry note )
Meeker and Snerd, A seemingly versatile duo who often take on different jobs at the Generic family's conveinence.
Jake and Al, Bobby's younger twin brothers, who were supposedly conceived sometime between the first two seasons and born late into the third season.
For a television show that ran for over seven years, it's not as well-remembered when compared to later shows that aired on the block. On top of the lack of televised reruns after its conclusion and having less of an impact compared to other shows that followed, it was clearly a show made for children around Bobby's age. That didn't stop it from letting a bunch of subtle adult jokes make their way into the scripts every once in a while. It was still popular enough to warrant Kids' Meal Toy sets from McDonald's, Subway, Dairy Queen, Hardee's, and Wendy's.
The rights to the series were snatched up by Splash Entertainment (formerly known as Mike Young Productions), which has aired the series on its video-on-demand service, Kabillion since its inception. A month later, the character surprisingly made a brief return on Deal or No Deal when one contestant admitted to being a fan of the series, and the Banker actually brought out Bobby to tempt them to take the deal.
Kabillion has since made all seven
seasons
available
on
its
official
YouTube
channel.
---
Tropes featured in this show include:
Jerkass Has a Point: Bobby's parents become mad at Derek when he tells Bobby that your tonsils don't fall out, they're surgically removed. While he does describe this in an unnecessarily creepy way, his description is basically accurate.
Jerk with a Heart of Gold: Kelly, despite considering Bobby an annoying younger sibling who makes her life a living hell, still loves him and is (occasionally) willing to stick up for him.
Karma Houdini:

Derek is never seen getting any punishment for anything he does to Bobby (e.g. ditching him, saying false things to scare him, insulting him, etc).
In "Misery Loves Company", Bobby is invited into a sleepover with a friend named Gordon who claims he is Bobby's "number one fan". Throughout the entire episode he blames Bobby for things he didn't do, and he is never seen getting caught for what he does. Subverted when Uncle Ted picks up Bobby bringing Rodger with him and making a dirty mess in Gordon's house. Also when Gordon wanted to plan to have a sleepover at Bobby's house, Bobby's reaction implies that he's getting back at him.
---