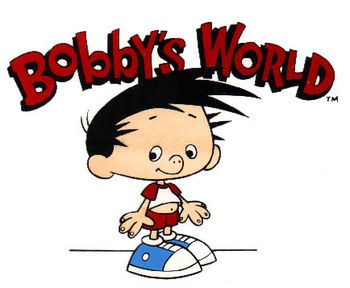 Bobby's World is a cartoon series that ran on FOX's Fox Kids Saturday morning block (though it sometimes shortened up in the weekday afternoon block) from 1990 to 1998. It was created by Canada-born comedian Howie Mandel.
It was about an imaginative young 4 year-old boy named Bobby Generic (voiced by Mandel) who often misinterpreted things that were said to him.
Other characters include Bobby's parents, Howard (also voiced by Mandel) and Martha (voiced by Gail Matthiusnote a Saturday Night Live cast member during the show's 1980-1981 season, though most fans of 1990s cartoons remember Matthius as Shirley the Loon from Tiny Toon Adventures or Molly Coddle the comfort doll on Bump in the Night); his older sister, Kelly (Charity James); his older brother, Derek (Kevin Smets; later, Pamela Adlon after Smets hitting puberty); his younger twin brothers, Jake and Al, who were born in the third season; his uncle Ted (Tino Insananote Bushroot from Darkwing Duck and Pepper Ann's police officer uncle); his aunt Ruth, and his sheepdog, Roger (Frank Welker).
For a television show that ran for eight seasons, it had very little publicity.
---
Tropes featured in this show include:
---