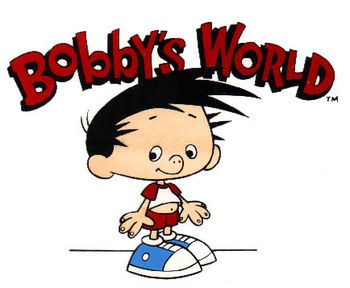 Bobby's World is a cartoon series that ran on Fox's Fox Kids Saturday morning block (though it sometimes showed up in the weekday afternoon block) from 1990 to 1998. It was created by Canada-born comedian Howie Mandel (as a co-production between him, Fox and Film Roman).
It was about an imaginative young 4 year-old boy named Bobby Generic (voiced by Mandel) who often misinterpreted things that were said to him.
Other characters include Bobby's parents, Howard (also voiced by Mandel) and Martha (voiced by Gail Matthiusnote a Saturday Night Live cast member during the show's 1980-1981 season, though most fans of 1990s cartoons remember Matthius as Shirley the Loon from Tiny Toon Adventures or Molly Coddle the comfort doll on Bump in the Night); his older sister, Kelly (Charity James); his older brother, Derek (Kevin Smets; later, Pamela Adlon after Smets hit puberty); his younger twin brothers, Jake and Al, who were born in the third season; his uncle Ted (Tino Insananote Bushroot from Darkwing Duck and Pepper Ann's police officer uncle); his aunt Ruth, and his sheepdog, Roger (Frank Welker).
For a television show that ran for eight seasons, it had very little publicity. The character surprisingly made a brief return on Deal or No Deal when one contestant admitted to being a fan of the series and the Banker actually brought out Bobby to tempt them to take the deal.
---
Tropes featured in this show include:
Jerk with a Heart of Gold: Kelly, despite considering Bobby an annoying younger sibling who makes her life a living hell, still loves him and is (occasionally) willing to stick up for him.
Karma Houdini:

Derek is never seen getting any punishment for anything he does to Bobby (e.g. ditching him, saying false things to scare him, insulting him, etc).
In "Misery Loves Company", Bobby is invited into a sleepover with a friend named Gordon who claims he is Bobby's "number one fan". Throughout the entire episode he blames Bobby for things he didn't do, and he is never seen getting caught for what he does. Subverted when Uncle Ted picks up Bobby bringing Rodger with him and making a dirty mess in Gordon's house. Also when Gordon wanted to plan to have a sleepover at Bobby's house, Bobby's reaction implies that he's getting back at him.
---