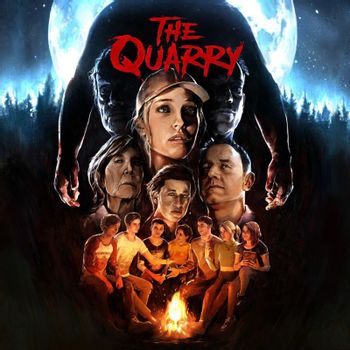 "Hello, my friend. Welcome to the show."
The Quarry is a survival horror game from Supermassive Games (Until Dawn). It was published by Take-Two Interactive.
The plot is a callback to 1980s slasher pieces such as Sleepaway Camp and Friday the 13th (1980). A group of camp counselors are left alone at camp after the kids have all gone home. Once night falls, however, their plans of drinking and sex take a backseat to unimaginable horror. Out of the darkness, the counselors face "blood-drenched locals", as well as a far more sinister threat hiding in the shadows.
Gameplay-wise, the experience is similar to Until Dawn: players control each of the nine counselors and their decisions will shape how the plot unfolds. These choices determine who will live and who will die, ranging from everyone surviving the night to none of them.
The game boasts an impressive cast, including David Arquette, Justice Smith, Brenda Song, Ariel Winter, and Ted Raimi, among others. The game was released on June 10, 2022.
Previews: Trailer One
---
Tropes:
open/close all folders
Tropes A-F
Action Film, Quiet Drama Scene: After an intense scene where Nick

and possibly Abi get bitten

, there's a quiet scene of Emma walking to check out the cabin while she vlogs with her subscriber base, discussing her relationship with Jacob.

Emma: Maybe in 50 years, we'll see each other again and remember that amazing summer at Camp Hackett. It's only a matter of time. And time... makes fools of us all.

Affectionate Nickname:

Max and Laura often address each other by "hon" or "honey", and Max jokingly calls Laura "Ma'am" a couple times.
Abigail has her name shortened to Abi by her fellow counsellors, Jacob is called "Jake" by Kaitlyn, and Emma is called "Em" by Jacob.
Emma affectionately calls Abi "party bear" in their first on-screen interaction.

An Aesop: Emma and Jacob's relationship presents several lessons:

Always be honest when you are in a relationship, both partners should share the same idea of how their relationship should work. A sexual relationship can lead to romantic attraction or lead to mixed messages when your boundaries aren't established clearly enough.
If someone you know is upset about a break-up, do your best to be supportive as you help them through it. If they are still struggling to let go of their ex, try to prevent further heartbreak by encouraging them to move on and see other people instead of encouraging them to get back together.
One more night together isn't going to "fix" a relationship that's over. Learn to accept rejection healthily before you do something you'll regret.
If you want to break up with someone or establish your boundaries, don't leave mixed messages. Be firm, but polite.

An Arm and a Leg: Ends up being something utilized to avoid infection from a werewolf bite. Bobby will shoot off his finger if Nick bites him, but the big one is Ryan amputating Dylan's hand should he get bitten.
Anyone Can Die: Given the nature of the game (interactive survival horror), this is in full force, potentially crossing into Everybody's Dead, Dave or "Everybody Dies" Ending depending on exact choices. There are even two separate achievements for the worst instance of this kind of scenario; one for all the counselors and another for

the Hackett family.

The

headline of the newspaper during the podcast in the credits (both before and after any collected evidence is discussed) changes depending on which characters from which group (Hacketts vs counselors) died or survived.

Ape Shall Not Kill Ape:

Werewolves

do not attack each other. This is invoked by

the family Hackett, who mark themselves and any of the counselors they find with werewolf blood, which causes the werewolf to not attack. Alternatively, if Kaitlyn or Dylan are previously infected, Caleb will not try to kill them in the lodge.

Arc Words: The camp motto: "What doesn't kill you will make you stronger."
Art Shift: The tutorials are presented as 2D educational cartoon shorts.
Bisexual Love Triangle: Ryan has two potential Love Interests (Kaitlyn and Dylan), and he has the option to kiss either of them during a game of "Truth or Dare" (during which he quips "I take it both is off the table?")

Subverted in the sense that once

Laura comes back around, Dylan and Kaitlyn have the option of musing in the scrapyard that Ryan seems more interested in her than either of them (this is an option even considering that Laura already has Max as a boyfriend and even if Ryan takes every opportunity to flirt with either or both Kaitlyn and Dylan AND even if Ryan and Laura absolutely hate each other after they first meet in Chapter 6/7.)

Bittersweet Ending: Even in the best possible ending scenarios with

the werewolf curse ending and curing the remaining infectees

, the counselors and Hacketts will be presumably traumatized, and

there will be inevitable deaths, particularly Ryan and/or Chris

.
Blood Is the New Black:

Bobby and Jedediah cover themselves in blood at the start of the game, and Bobby can do it to potentially Jacob and Kaitlyn if either of them are caught.

This is a subversion however, as its done to cover their scent like normal hunters using musk. It protects them from the werewolves to an extent

.

Travis, if he works with the group, can inform them on the protective power of the werewolf's blood. If Ryan finds a bottle by arriving fast enough to save Nick from Bobby, Laura can chose to use it or let Ryan use it.

The Transformation Sequence of the werewolf is done in a spray of blood, and the creature is covered in blood after it happens. This also happens in reverse, as a human will be covered in blood.

Bloodier and Gorier: Compared to Until Dawn and The Dark Pictures Anthology (neither of which were exactly pulling their punches), The Quarry stands out as the most gruesome Supermassive horror game to date. There's a greater focus on injury detail and possibility for the main cast to take horrific but non-fatal wounds, in addition to some extremely bloody death scenes of course. Notable moments include Dylan having his hand amputated by chainsaw and continuing the latter half of the game with a wrapped-up stump,

Max slashing at Laura's face and exploding her eyeball with his claws

,

Jacob having his face get caught in a beartrap just moments after his foot gets caught in a separate one,

and

several lingering close-ups of Constance's flayed-open face if Laura shoots her during the struggle for the shotgun

.
Bottomless Magazines: Despite many survival horror games having an emphasis on having very few conventional methods of fighting back enemies AND on having incredibly limited uses of those methods (ex: only having a basic weapon like a pistol with just a few bullets), not only will you nearly always have a double-barrel shotgun on hand, but you will quite literally NEVER have an instance where you don't have any more shells or need to reload, at least not at a crucial moment where having that one additional shot really matters. The only way in which ammo is in short supply is with

silver ammo, which is the only way that the shotgun can kill a transformed werewolf.

Brother–Sister Team: Kaylee and Caleb were this

in their werewolf forms when first seen in the forest, biting Abigail and Nick, respectively.

Cannot Spit It Out: In two different flavors.

The policeman who stops Laura and Max at the beginning of the game orders them to go to a hotel instead of the titular Quarry, flatly repeating his instructions when they ask why they shouldn't go to camp.

Turns out later that it's because there's no real easy way to explain or talk around the existence of werewolves, especially without risking drawing suspicion to your family, who've been hiding the whole thing for six years. He finally starts opening up when Laura and Max reveal they've worked out that the latter is a werewolf for themselves.

Counselors Abigail and Nick are a classic Twice Shy example of this, and their relationship to this trope becomes darkly subverted when Nick becomes a werewolf, and in the throes of pre-transformation aggression, his diffidence is replaced by him angrily nagging and guilt-tripping Abi for a romantic confession that she can't give - no longer due to shyness but to her being very understandably stressed, scared, and confused by his behavior.

Chase Scene: Several, throughout the course of the game, with various outcomes for the characters:

In Chapter 3 Abi is pursued through the woods

by a werewolf Kaylee, who may infect her if she fails Quicktime Events during the chase. Although this seemingly has no effect on her, perhaps because Kaylee is killed soon after, which would nullify the infection before the symptoms began to show

.
In Chapter 4 Emma is chased by a

werewolf Max when she opens the trapdoor in the treehouse on the island. Depending on the player's actions she may die here, become infected, or escape unscathed

.
In Chapter 6 Jacob (and Emma, if she survived Chapter 4) are pursued

by a Werewolf Caleb across the tree walk, which may result in Jacob being infected or killed here. The chase culminates in Jacob being caught in a bear trap

.
In Chapter 9

an injured Ryan must flee from Bobby, who stabbed him, and use stealth and his wits to avoid detection. This can end with Ryan using Bobby's weapon against him, stabbing him in the chest

. Also in Chapter 9,

Laura

is briefly pursued by Jedediah through the Hackett house.
In Chapter 10

if werewolf Chris is still alive

, he will chase Jacob through the forest. This ends with a snare trap, and either Jacob can get caught in it and eaten by the werewolf, or

Jacob can avoid it, Chris gets caught in it and is not a danger until morning when he turns back to a human

. Also in Chapter 10, Kaitlyn and possibly Dylan can be chased by

werewolf Caleb

through the lodge.

Chekhov's Gun:

In the beginning of the story, Abi can choose to find a cute stuffed rabbit that was accidentally left behind that talks when you pull the string on its back.

Kaitlyn can use it to trick Caleb the werewolf into getting stuck in the freezer.

Even before this, Jacob can find Emma's silver bracelet near the minivan.

If both Emma and Jacob are infected, but Emma is cured by killing Chris in Chapter 9, the two will meet up in the woods in Chapter 10. Jacob will transform into a werewolf, and Emma will be ripped apart by Jacob without the silver bracelet to drive him off.

Choose Your Own Adventure: In the game, you are able to make choices. Those choices can affect gameplay and how characters view each other.
Clothing Damage: The

werewolf

transformation explodes outward in a torrent of blood. When reverting back to humans, their clothes are in tatters, or, in the case of

Max and Chris

, they lose their shirts entirely.
Collection Sidequest:

Clues can be found throughout. However, aside from achievements, these don't do much.
Evidence can be collected and it changes the Greek Chorus ending with the podcasters.

And if you don't find enough, the counselors are arrested

.
The Major Arcana of Eliza's Tarot card deck can be found.

These burn when found, hinting at what happened with the fire

.

Cursed with Awesome: Sure turning into a werewolf and having an insatiable hunger isn't cool, but having a Healing Factor strong enough to survive mortal injuries is surely helpful. Ryan is even given the choice to be infected so he will survive being stabbed.
The Dark Side Will Make You Forget:

Chris is still concerned for the safety of the counselors, but isn't bothered by his actions when transformed; such as the murders of the hikers that stumbled onto the grounds. (You can even encounter one his victims in Lake Septimus.) In fact, when Travis confronts Chris pointing out that he tried to kill Laura and Max. Chris' response is "That was you...I'm telling mom!".

Demoted to Extra: There are some points where main characters just seem to disappear from the plot, particularly once they've passed a point where

they could potentially die

. Some examples include:

Nick very early on in the game due to him

transforming into a werewolf. Even when transformed, he's swiftly captured by the Hacketts and not seen again until very late in the game, where he can be killed by Laura with little fanfare

.
Abigail's relevance drops off after

Nick's transformation, largely due to potentially dying at Nick's hands or Emma's if Emma becomes a werewolf. If she lives, she largely just passively tags along with the group and spends the final battle hiding in the cellar or Chris' surveillance room

.
Jacob practically disappears from the plot

after he's either set free from the Hackett household by Ryan or eaten by a transformed Nick. He only appears in Chapter 10 in a cutscene, unless Emma is a werewolf or Chris is still alive, in which he has a short chase scene.

Emma largely loses relevance after

either escaping from, being bitten, or being eaten by a transformed Max on the island. She doesn't reunite with the group until very late in the game, and spends the final battle hiding in either the cellar or Chris' surveillance room, or meeting Jacob if she was bitten.

Max starts in a comparatively smaller role as opposed to Laura even in the prologue, then gains about equal footing with her in

Chapter 7, where they are both heavily involved in being interrogated by Travis and figuring out the werewolf curse that plagues Hackett's Quarry,

only to be demoted afterward to

one playable scene that is perhaps the smallest in the entire game that, aside from a little walking, only contains one binary decision which literally just amounts to "press this button to live, this one to die."

The cherry on top is that you can possibly not even see this later game content if

you don't kill Chris Hackett as Ryan in Chapter 9, thus leaving the curse on Max, Laura, and all of Chris' other victims intact.

Don't Go Into the Woods: When the counselors are forced to stay overnight, they're specifically told to stay inside and keep the doors and windows locked until sunrise. Naturally, they don't listen, and things quickly go to hell.
Double-Meaning Title: The title refers to both the actual location where the teens are — an old quarry that was converted into a summer camp — as well as the fact that the teens are being hunted by something in the woods, 'quarry' being another term for animals that are pursued by hunters.

Also towards the Quarry the Hackett family is hunting, Silas the original Werewolf.

Dramatic Ammo Depletion: Mostly averted; you'll never run out of shots even if you take every single opportunity to shoot. The one instance where this is present is in Chapter 7, where you can potentially escalate the conflict between Ryan and

Laura to the point where she dares him to shoot her. If you actually do so, this will be the one time in the whole game where the gun doesn't have any ammo, thus Laura isn't even injured and promptly sucker punches Ryan for trying something so bold, although the shot wouldn't have killed her regardless because it wasn't loaded with silver.

Drunk On The Darkside:

Laura starts to really enjoy her transformation into a werewolf, even though she by that point would have been stabbed, shot at least once, dropped off a cliff, and seen for herself the horrors of the transformation. It creeps Ryan out when she mentions how good she feels.

Emergency Transformation: After Ryan is stabbed by Bobby, Laura offers to infect him with lycanthropy to give him the Healing Factor he will need to survive, with the caveat that he will need to kill Chris Hackett to be free of the curse. Whether he accepts or not is left to the player's choice.
"Everybody Dies" Ending: While surprisingly a bit trickier than at first glance, such an ending is only possible if

Silas is killed by Laura after the car crash (as she dies from her injuries shortly after) and Caleb is locked in the freezer as he mauls Kaitlyn since the werewolf curse will be lifted, and he'll be trapped frozen to death. Thus, the game could end with every counselor and Hackett family member dead.

Everybody Lives: Par the course for this type of game, such an ending is of course possible.

While, bar a few late game decisions, it is not very difficult to keep all the counselors alive, the complexity of this approach can be taken even further if the player wishes to keep as many of the Hacketts alive as possible or even just have the lowest number of deaths period. Assuming the counselors' lives are the ones of highest priority, it is entirely possible to end the game with only two player-caused deaths in total; those being Chris Hackett and Silas Vorez. Chris must be shot by Ryan for him, Laura, and Travis to be alive and fully human again, and Silas must be killed to lift the curse off of everyone.
Perhaps the most complex person to keep alive, without sacrificing other lives at least, is Caleb Hackett. Succinctly put, Kaitlyn (and Dylan if he is alive by the time they reach the scrapyard) must be infected before Caleb attacks the lodge in Chapter 10. Having this be the case allows you to Take a Third Option where Caleb swipes at Kaitlyn (by this point Dylan is elsewhere given that he turned in the scrapyard) but does not fully maul her because she is infected, allowing her to simply evade Caleb rather than shooting him or trapping him in the freezer. If, in the same playthrough, you convince Travis to work with Laura and Ryan to kill Silas and actually go through with it, Caleb, Kaitlyn, Dylan, and any other infected characters will be cured and their human forms will be unscathed.

Evil Makes You Ugly:

The werewolf transformation causes the otherwise attractive cast to undergo some rather horrible changes. For starters, their eyes and skin turn a sickly shade of yellow, as if they have jaundice, with every vein in their face popping out to the point of almost bursting. A few get some extra traits, such as Emma and her teeth turning into jagged canines.

Expy: Eliza the fortuneteller plays a role not dissimilar to the Dr. Hill in Until Dawn or The Curator of The Dark Pictures Anthology, acting as a Horror Host who occasionally turns up in the game. However, she's also an actual character within the backstory, though she's dead by the time the game starts and you're talking to her ghost. If the player has been listening to her advice and pushing the characters into making certain choices however, they will have fulfilled Eliza's Curse against the Hackett family and desire to see them all dead so they will stop hunting her son Silas, as well as Revenge on the two youngest, Caleb and Kaylee, for her Accidental Murder during a fire set as a distraction that got out of control, in essence making the player her instrument of vengeance throughout the game.
Eye Scream:

What happens to Laura during her time in jail; when Max transforms into a werewolf in front of her, he is able to swipe her across the face, blowing out one of her eyes in the process.

Final Girl: As is common in Supermassive Games titles, any of the characters can be the Sole Survivor. Ryan and Kaitlyn, however, have achievements for it. Kaitlyn's is even called Final Girl.
Five-Second Foreshadowing:

When Laura has been

discovered by Constance, Laura tries to break free of her grasp and says "I'll blow your fuckin' head off" and soon after if a certain QTE is passed that is essentially what happens.

When Jacob

goes back looking for Emma he may examine the edge of a walkway and say "wouldn't want to fall off this" and then soon after if a certain QTE is passed he accidentally makes Emma fall off it.

Foregone Conclusion: Anyone familiar with Until Dawn or The Dark Pictures Anthology will know that prologue characters in Supermassive games have an extremely short life expectancy, so Laura and Max not even making it to Chapter 1 should come as no surprise. Played With only to be eventually Subverted, in that they do actually survive and are simply off in their own plot during the two-month Time Skip, which is eventually recapped in Chapter 7. Observant players might have expected something was up, given that Laura's face gets the most space on the game's cover art, suggesting a larger role for her than Decoy Protagonist; and indeed, when she returns in Chapter 7, it quickly becomes clear that she's the main character if anyone is.
Fate Worse than Death: If one fails the QTE to pull free from the bear trap as Jacob, he will fall face first into another trap right next to it. If he also happens to be infected, this will not kill him and he will instead struggle and attempt to scream in agony until Jedediah comes to capture him.
Foreshadowing:

In Eliza's first scene as the Horror Host to the player, she says that she's "waited a long time" to meet them, and that you can both "help each other", with her offering to shed light on the potential consequences of the paths you can take through the tarot card collectibles you can find throughout the story, but not mentioning what exactly the player can do for her. As a ghost who perished years ago through the events that caused the werewolf curse to be brought to Hackett's quarry, Eliza is unable to directly intervene in the story, and the most she is able to do is hauntings: calling out names and making phones ring. She can't make anyone do anything. As the player, however, you can, so she is guiding you to the choices that will lead to the deaths of the Hackett family to achieve her Revenge against them and sparing her son Silas from being hunted down by them, as none of the teenagers have been infected by Silas himself and thus there is no need for them to kill him to break the curse affecting them.
If one pays attention during the prologue, you can clearly see Eliza's face and figure as the ghostly woman moving around the woods where Laura and Max crash, in ways that spell out that she's a ghost, pointing to the reveal that she's been Dead All Along before it and her connection to the story get spelled out in the final hours before dawn.
In the prologue when Laura tells Max she saw someone in the cellar, Max asks if the person in question might be Mr. Hackett. In chapter 7,

it's revealed that it was indeed Chris Hackett in werewolf form.

If the player finds any of Eliza's Tarot cards, they always burn as they disappear. In the

Hierophant's Tarot card vision, the player sees that her cards disintegrated this way in the fire

.
Part of the reason Max and Laura disregard Travis's advice to go to the motel that night instead of the Quarry like they planned is that in addition to his generally creepy demeanor and the circumstances they're in, Max notices what appears to be fresh blood on him, enhancing his image as an untrustworthy individual. The Hackett family turn out to mark each other with werewolf blood on the night of the full moon to avoid their transformed family members attacking them, and as Travis is trying to hunt down Silas to end the curse for good, he too has marked himself whilst in the vicinity of Silas' nest.
The motto of Hackett's quarry is "what doesn't kill you makes you stronger". Getting mauled by a werewolf is a fairly life-threatening situation, with no guarantee of survival, but if you survive you gain a Healing Factor that allows you to shrug off anything short of silver bullets, not to mention increased strength and agility in your werewolf form.
While exploring the lodge, Jacob notes that the central chimney doesn't look very stable. Emma can also find blueprints detailing a planned remodel of the chimney to strengthen it, confirming it is a structural weakness. This comes into play later when

a transformed Caleb breaks into the lodge through the weakened chimney.

He'll also note that the freezer looks like it'd be an awful place to get stuck in.

Kaitlyn or Caleb can get shut in the freezer as Kaitlyn tries to elude Caleb during the lodge attack, and they'll die of the cold unless Kaitlyn is infected or Caleb is never cured, ensuring werewolves' near-invincibility allows them to endure it until they're freed in the morning.

In chapter 1, Kaitlyn will remark, "One more night in the great outdoors might actually kill me." Considering her status as a character in an interactive horror game, that statement rings more than a little true.
The campsite has a bunch of signposts pointing to different cities (Toledo, Boston, Burbank...). If you check the sign again at night, you might notice that the sign for Death Valley is pointing at the moon◊. Now, what's the main threat of the game, again...?
Chris squints in the light far more then any other character. He is also very adamant about the counselors leaving camp on time but doesn't offer them a ride.

He turns out to be a werewolf and couldn't risk transforming on the way. Also, the werewolves have heightened senses, so bright lights affect them, as shown by Laura later in the story.

After Chris leaves the group alone, Dylan pitches that they throw a party while describing them as "just a bunch of grown-ass adults looking to get down with their animal side."

Considering what each of them can end up becoming...

Nick can state during a chat with Abi that he's never sure what the future holds and that at times, he tries to content himself by letting things happen as if they were meant to. Abi returns, "Like it's all predetermined? Fate?"

Nick is the one member of the main group of seven counselors who is not only always guaranteed to become a werewolf, but to become one at the same point in every playthrough. His inevitable lycanthropy affliction

is also foreshadowed by multiple references to Nick having a hidden bold side to him that the others find almost inconceivably at odds with his usual soft-spoken and awkward personality. When Jacob assumes he's never shot a gun before, Nick replies, "Yeah, not that you know of" only to be scoffed at; Ryan says that "Nick's got the beast in him" when Kaitlyn doubts either he or Abi will ever initiate a relationship, and when laughs it off, he and Dylan will say they've noticed he's surprisingly shredded for the cute and preppy way he styles himself; and when Jacob says he doubts he has any experience with women, Emma counters that he's a confident kisser.
After Abi and Nick begin conversing about fate, Abi goes on to say that she's not fond of the idea, since she feels it implies one could use it to shrug off the consequences of their actions and claim that "it wasn't really me" if they do something horrible.

Nick's infection inevitably warps his behavior and causes him to act aggressively towards her, and while she recognizes that "this isn't you", she won't survive the night unless the player has her retaliate via a shotgun blast when he ultimately attacks.

Fortune Teller: The Horror Host this time around is one of these, and bringing her different tarot cards hidden throughout each chapter will allow her to share outcomes for certain subsequent actions you might take.

She was this even before she was killed, as the posters said she would read your fortune with her deck.
Tropes G-O
Tropes P-Z
---