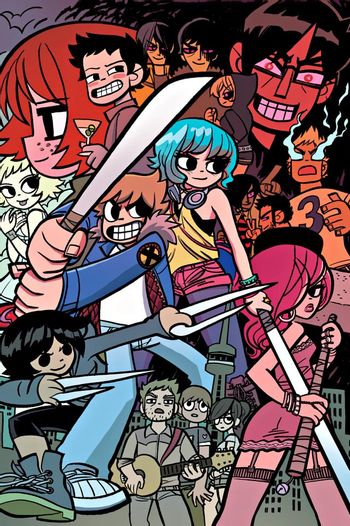 "Scott, if your life had a face, I would punch it. I would punch your life in the face."
— Kim Pine
Scott Pilgrim is an award-winning indie graphic novel series by Bryan Lee O'Malley and published by Oni Press throughout the mid-to-late 2000s.
The series revolves around its namesake characternote named for a song by Canadian band Plumtree which inspired O'Malley to create the series, a Canadian twentysomething slacker who plays bass in a band called Sex Bob-Omb and otherwise lives a comfortable life mooching off his friends and roommate. Said life is thrown into chaos when American ninja delivery girl Ramona V. Flowers moves into town and starts using his dreams as a shortcut to other places, and Scott falls in love with her. However, to be free to date her, he has to defeat her seven evil exes in battle (they have a league) and — quite possibly — get a life.
Did we mention that it's set in a Video Game version of Toronto that runs based on the Acceptable Breaks from Reality used in River City Ransom?
The series runs through six volumes:
Scott Pilgrim's Precious Little Life (2004)
Scott Pilgrim vs. The World (2005)
Scott Pilgrim & The Infinite Sadness (2006)
Scott Pilgrim Gets It Together (2007)
Scott Pilgrim vs. The Universe (2009)
Scott Pilgrim's Finest Hour (2010)
The film version of the series, Scott Pilgrim vs. The World, was directed by Edgar Wright, starring Michael Cera as Scott and Mary Elizabeth Winstead as Ramona, and released in summer 2010. A side-scrolling beat-'em-up game by Ubisoft, with sprite work by Paul Robertson and music by Anamanaguchi, was released a matter of days before the film's American premiere as a tie-in. O'Malley was heavily involved in both adaptations.
For those who prefer a more tactile gaming experience, a Deckbuilding Game called Scott Pilgrim's Precious Little Card Game was published in 2017 by Renegade Game Studios, who also launched a Kickstarter campaign for
a tabletop miniatures game, Scott Pilgrim Miniatures the World, in 2019.
The series now has a full-color
Updated Re-release that began on August 2012, finally rendering all those black and white jokes completely meaningless.
Now has a Character sheet and Shout Out page. Feel free to contribute.
---
WE ARE SEX BOB-OMB AND WE ARE HERE TO MAKE YOU THINK ABOUT TROPES AND EDIT ARTICLES AND STUFF! 1, 2, 3:
open/close all folders
A-C
Call-Back:

Volume 5 has a dream that puts Scott in the same desert he found himself in back in the first volume, once again lamenting that he is "so alone".
When Wallace is first telling Scott about Lucas Lee, Scott confuses him first with Luke Wilson (the actor), and then with a guy who was in a band that Sex Bob-Omb played with (also named Luke Wilson). Some time later, Scott runs into the latter Luke Wilson, and asks if he is Lucas Lee (mind you, this is after Scott had met, fought, and defeated Lee).

Canada, Eh?: Written by a Canadian, so it averts most stereotypes, but has the occasional "eh?"
Captain Obvious: Wallace is actually helpful most of the time, but once a fight actually starts..."Scott, watch out! I think that guy might be Gideon!"
Charles Atlas Superpower: The Boys and Crash's constant rehearsing finally pays off in the form of an advanced technique:

Scott has superhuman speed and strength and insane martial arts skills without any justification other than he's the main character of a video game.

Chekhov's Gun:

The extra life Scott gained in book 3 brings him back to life after Gideon runs him through. Lampshaded by Scott's mom, pointing out the extra life after Stacey notes that Scott just came back.
It always seemed odd how the Lucas Lee movie Scott and Ramona watch in Volume 2 was curiously similar to Scott's rescuing of Kim back in high school...

until Vol. 6

.

Chekhov's Gunman:

Nega-Scott, Scott's mysterious doppleganger from Volume 4, reappears in Volume 6, turning out to be a personification of all the problems Scott wants to get away from.

The Boys and Crash in Volume 3, along with their Chekhov's Skill (manipulating sound waves), which is lampshaded by Kim.
In the movie, Roxie attacks Scott for the first time before he meets Todd.

Gideon Graves

at the end of Volume 3.

Chekhov's Skill:

In book 2, it's shown that Scott is an exceedingly good cook. When he gets a job at a restaurant in book four, he's relegated to a dishwasher.
Played straight at the end of Volume 6.

Scott Pilgrim, greatest prep chef in the world. And he still botches the order.

Stephen Stills: Whatever, they ordered dinner at 10:55. They're getting a salad.

Played straight with Stephen Stills, who had his cooking moment with the vegan shepherd's pie scene in book 2, and is seen later working at the same restaurant as Scott and being complimented by customers for his cooking.
After Scott earns the Power of Love and goes up to fight Roxy, he says, "Now I'm glad I picked that longsword proficiency in grade five!"

This was actually foreshadowed in Vol 2, when Scott said that he didn't take the skateboard proficiency.

Headbutting.

Scott uses it to kill Todd in Volume 3, and then uses it in Volume 6 with the Glow to break Gideon out of his giant, twisted, godly form.

Christmas Cake: Played straight in a bizarre fashion. In Vol. 4, Scott is sitting on a bench looking for some drink money right before he meets Lisa. Two girls walk by, one remarking that Scott is kind of cute, and the other responds, "Ew, he's like 25."
Cloudcuckoolander: Scott has shades of this from time to time.

Wallace: Can you be serious for one second?
Scott (drooling): I like elevators.

Combination Attack: How Scott and Ramona finish off Gideon. It's a slash in the shape of an "X". An X-Slash if you will. The twins Kyle and Ken also do this with techniques like the Double Hurricane Kick, and Simul-Punch. Also known as the "Ex-slash" if it's possible not to notice.
Comically Missing the Point: The Vegan Police rush in to remove Todd Ingram's vegan superpowers for eating gelato. Envy notes that Todd also ate chicken parmesan, but the police aren't sure whether parmesan is an animal or not, so they don't punish him for that one.
Comic-Book Time: Lampshaded and mocked in the fifth volume, as the Real world and the Scott Pilgrim world take on the last Sex Bob-Omb show collide with hilarious results.

Sandra: A whole generation of bands have come and gone since you guys opened for the Demonheads in '05!
Scott: That was this May!

Continuity Nod: Scott's love of the X-Men, shown in Volume 1, is shown again in Volume 5 in full force. He tells Ramona the storylines of the demon Belasco kidnapping Colossus' sister Illyana and the time the X-Men set up base in Australia.
Continuity Porn: The series is loaded with little details, some of which speak to each other over separate books.
Conveniently Timed Attack from Behind: Knives leaps and attacks Envy right before she's about to finish Ramona. Subverted in that it doesn't accomplish much and Knives ends up hitting the wall.
Cosmetic Award:

Scott unlocks an achievement for defeating the Katayanagi twins at the same time.
They also give a $2.00 "twin bonus"... no, wait, that's likely independent of the achievement.
Gets a Shout-Out in the video game, where defeating both of them at once earns you the 'Twin Dragons' Achievement/Trophy.

Cranky Landlord: Scott and Wallace's landlord is a jerkass of the highest order. Considering the boys don't seem to actually pay him rent and he still lets them stay until their contract lapses, at which point he offers a per month deal...
Crapsaccharine World: The entire World of Ham looks playful and fun at first, until you realize just how selfish, violent, and lawless most of the main cast actually is. Even the heroes. Lampshaded several times. For example in Volume 2, when Ramona rips a metal pole off the ground to fight Knives, Stacey exclaims, "Are you crazy? You can't just tear up giant metal art objects like that!"
Crazy-Prepared: Gideon: "Yes! I had a sword built into Envy's dress in case of emergency! THAT'S JUST THE KIND OF GUY I AM!"
Critical Existence Failure: Scott gets thrown through brick walls, beaten up by a giant robot, etc. and manages to come out relatively unscathed.
Crossover: Scott makes a one panel cameo in another Oni Press graphic novel entitled PENG (which is NOT by Bryan Lee O'Malley, but rather by Corey Lewis, who also did the graphic novel series Sharknife, which takes place in the same continuity as PENG).
Crouching Moron, Hidden Badass: Scott Pilgrim may be an idiot, but he's also the "best fighter in the province".
Cryptically Unhelpful Answer: Ramona's "three or five evil exes".note
Cue the Sun: At the end of Volume 3.
Cutaway Gag: In Volume 5.

Scott: Well, we've got something like 48 hours, dude [Stephen Stills]...what's our plan?
SOMETHING LIKE 48 HOURS LATER AT SNEAKY DEE'S
D-F
G-J
K-R
S-Z
---