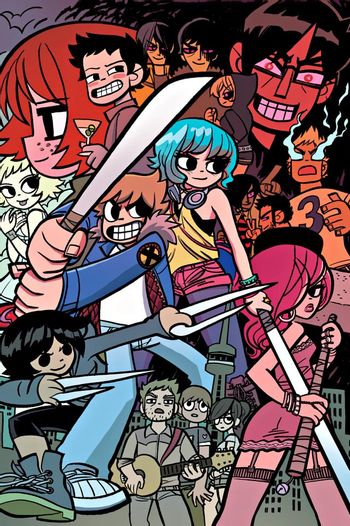 "Scott, if your life had a face, I would punch it. I would punch your life in the face."
— Kim Pine
Scott Pilgrim is an award-winning indie graphic novel series by Bryan Lee O'Malley and published by Oni Press throughout the mid-to-late 2000s.
The series revolves around its namesake characternote named for a song by Canadian band Plumtree which inspired O'Malley to create the series, a Canadian twentysomething slacker who plays bass in a band called Sex Bob-Omb and otherwise lives a comfortable life mooching off his friends and roommate. Said life is thrown into chaos when American ninja delivery girl Ramona V. Flowers moves into town and starts using his dreams as a shortcut to other places, and Scott falls in love with her. However, to be free to date her, he has to defeat her seven evil exes in battle (they have a league) and — quite possibly — get a life.
Did we mention that it's set in a Video Game version of Toronto that runs based on the Acceptable Breaks from Reality used in River City Ransom?
The series runs through six volumes:
Scott Pilgrim's Precious Little Life (2004)
Scott Pilgrim vs. The World (2005)
Scott Pilgrim & The Infinite Sadness (2006)
Scott Pilgrim Gets It Together (2007)
Scott Pilgrim vs. The Universe (2009)
Scott Pilgrim's Finest Hour (2010)
The film version of the series, Scott Pilgrim vs. The World, was directed by Edgar Wright, starring Michael Cera as Scott and Mary Elizabeth Winstead as Ramona, and released in summer 2010. A side-scrolling beat-'em-up game by Ubisoft, with sprite work by Paul Robertson and music by Anamanaguchi, was released a matter of days before the film's American premiere as a tie-in. O'Malley was heavily involved in both adaptations.
For those who prefer a more tactile gaming experience, a Deckbuilding Game called Scott Pilgrim's Precious Little Card Game was published in 2017 by Renegade Game Studios, who also launched a Kickstarter campaign for
a tabletop miniatures game, Scott Pilgrim Miniatures the World, in 2019.
The series now has a full-color
Updated Re-release that began on August 2012, finally rendering all those black and white jokes completely meaningless.
In January 2022, it was announced that Netflix is developing an anime series based on the graphic novels
, written by O'Malley and produced by Science SARU.
---
WE ARE SEX BOB-OMB AND WE ARE HERE TO MAKE YOU THINK ABOUT TROPES AND EDIT ARTICLES AND STUFF! 1, 2, 3:
General examples
Tropes with their own pages
---