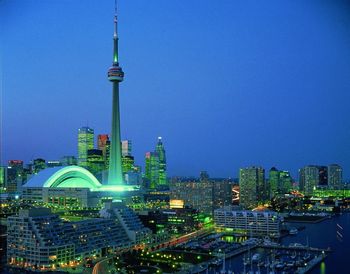 "Toronto has two seasons: winter and construction."
— Ontarian jokenote
With a combined population of about 2.7 million (or almost eight percent of the entire country) Toronto is easily the largest city in Canada and the capital of the province of Ontario, Canada's most populous province. It is not, however, the capital of Canada itself—that's Ottawanote which is also in Ontario, but several hours away. Non-Canadians don't always remember this. To be fair, Torontonians don't always remember this, either.
Among Canadians of a certain mindset, it's known as the place where the win of Canada and the fail of the States do battle for supremacy.
Originally established as York (or 'Muddy York') on the northwestern shore of Lake Ontario in 1793, it was quickly designated as the capital of Upper Canada because it was believed to be safer from an American attack than the current capital in Niagara. York was briefly occupied by American troops during the War of 1812 but the Americans withdrew after a few weeks of looting and arson. The city was renamed to Toronto in 1834, coming from the Mohawk word tkaronto ("where there are trees standing in the water"). The county in which the city was situated was still called "York County," however.
In the 1950s the provincial government established Metropolitan (or 'Metro') Toronto to standardize certain services between "Old Toronto" and the surrounding boroughs of York, North York, East York, Scarborough and Etobicokenote Pronounced Eh-toe-bih-koe. Nevertheless, each one developed and retained its own very distinctive character. In turn they spawned some 140 smaller ethnic and other communities, all likewise fiercely distinctive. To this day Toronto's official nickname is "A City of Neighbourhoods".
That all (almost) changed in 1998, the year Toronto technically became a "mega-city", as the governments of Metro Toronto were fully—and forcibly—merged. To paraphrase Douglas Adams: this made a lot of people very angry and was widely regarded as a bad move by the provincial government of the time. A kind of 'separate but equal' standoff has since been established, wherein everyone retains their unique local identities while also retaining the right to complain endlessly about the central government (very Canadian, this). Claiming you live in Toronto or, say, Scarborough is equally acceptable on official documents or mail.
Today, this fractured-yet-somehow-functional metropolis is at least united in a deeply conscientious civic sensibility, overlaid with an eager cultural striving towards modernity and diversity. Its one overarching ambition, often mocked but deadly serious at heart, is to be acknowledged as a 'world-class city'. Peter Ustinov famously described it as "New York run by the Swiss", which is... not quite what Torontonians had in mind, but they will take it.
Ironically enough Toronto is likely best-known to Americans as a stand-in city of movie and television fame, as filming in Canada is quite a bit cheaper than in the US and comes with some tempting tax incentives.note (See this article for why)
The City with No Name is often Toronto. Within Canada, meanwhile, it's often derisively known as "the centre of the universe", partially because it's the first city anyone outside of Canada thinks of, and because, well, everybody else in Canada hates Toronto with a fierce and often very creative passion. It's about as close as we ever get to true national unity.
This is largely thanks to a perception, true or false, that Torontonians are oblivious to the country outside of their city; very similar to the American concept of Flyover Country, only there's just the one largest and most diverse population centre hogging the national/cultural spotlight. (Although Vancouver, with its likewise vibrant film industry and influx of pan-Asian wealth, and Montreal, with its European cultural sophistication and renowned universities, both make a strong case for the second. Most Torontonians prefer to ignore all this, however.)
One can easily detect outsiders by their painstaking "Tow-Rawn-Tow". Natives of the city and surrounding area typically drop the last T, and sometimes the first O, so it's "Toronno", "Tronna", or even "Ch'ronna" ("ch" as in "chair") note This trips up quite a few actors portraying Canadians, e.g. in The Proposal, where Sandra Bullock's character is supposed to be a native Torontonian but immediately spoils it by pronouncing the city name. Nicknames include T.O. or T-dot (an acronym of Toronto, Ontario), Hogtown (for its large meatpacking industry in the 19th century), The Big Smoke (from its general history as Canada's industrial powerhouse), and "Toronto the Good" (referring to the goody-two-shoes Methodists and other Protestants who made the city a center for uptight Victorian morality). Lately "The 6" (sometimes "The Six" or "The 6ix") has been popularized (although not created) by Toronto hip hop artist Drake. note After some confusion, he clarified it
in an interview with The Tonight Show: it's a reference to both the city's original telephone area code (416) and to the 6 municipalities that merged into the modern City of Toronto.
In general, modern merged Toronto can be characterized as divided between suburban (the five outer municipalities) and downtown (Old Toronto) mindsets. The suburbs tend to think of the downtown as snooty latte-sipping liberal elites who expect the much larger suburbs to help finance services that mostly benefit downtown (like the streetcar and subway systems); the downtown tend to see the suburbs as Molson-swilling reactionary yahoos who are happy to take advantage of the world-class thing even while clamouring for more public funding cuts. Also, as enablers of the Ford political dynasty... we'll get to that in a moment. The city is further roughly subdivided by the massive Don Valley into west (sleeker, wealthier, most of the landmarks) and east (older, scruffier, most of the cool ethnic neighborhoods) sides.
Meanwhile, the communities within nearby York, Durham, Peel and Halton Regionsnote 'region' here is shorthand for 'regional municipality' were and are determined to remain completely independent, while also still effectively serving as outer suburbs of the big city. Most locals divide this larger region by original area codes: 'the 416' refers to Metro Toronto, while 'the 905' refers to everyone else.
The whole shebang is only vaguely referred to as the Greater Toronto Area (GTA), since very few natives can agree on just where the boundaries are. They roughly wrap around the western end of the lakeshore, and can plausibly stretch as far as Oshawa to the northeast down to Burlington at the southwest. Other terms used are Greater Toronto & Hamilton note which extends the boundaries further southwest to the next major city of Hamilton or the Golden Horseshoenote named for its shape and historical status as Canada's most prosperous and fertile region, taking in the Niagara Peninsula.
The only true consensus is that the farther away one is from Toronto, the larger the city becomes. For example, a citizen of Mississauga at home is not from Toronto, and he will be righteously insulted if you assume such. However that same Mississaugan will claim to be from Toronto while traveling overseas (or more than two provinces away) just to avoid the insane annoyance of having to explain all the above in detail.note A similar thing is done by Michiganders residing in the southeastern portion of the Lower Peninsula, only substituting "Detroit" for "Toronto".
War of 1812 aside, the city came up relatively peacefully through the nineteenth and twentieth centuries. Like many Great Lakes cities Toronto became a thriving centre of industry, as well acting as becoming a social and cultural hub for the developing nation. Wealthy Victorian-era Torontonians, following the British model, generally owned both an elegant townhouse downtown and a mansion (often of the local red sandstone) on what were then the rural outskirts; many of these still stand. The middle classes, meanwhile, developed the distinctive 'bay-and-gable' architectural style—a bay window on the ground floor and single gable above—that remains unique to the city.
In The '70s, just as the rest of the Great Lakes region was beginning its long, slow decline, Toronto received a huge boost from the provincial government... of Québec, whose newly passed language laws and rampant talk of separatism led to a flood of formerly Montréal-based Anglophones and most of Canada's major businesses making a run for Toronto. This was further increased in the latter half of the decade by changes to the federal Immigration Act, which led to a rise in immigration that continued well into The '80s and The '90s. It was during this period that Toronto overtook Montréal as both Canada's most populous city and its financial capital, most notably with all of Canada's major banks relocating headquarters trom Montreal to Toronto's financial district on Bay Street (which is now considered Canada's answer to Wall Street). Much of the architecture that defines the city to this day, notably the soaring glass-and-steel banking towers, the CN Tower and SkyDome, was constructed around this time.
Toronto today is an exceptionally multicultural city: 47% of its population consists of "visible minorities", meaning that soon "white" will be a "visible minority" by census and already is within North York, the largest, second most populous, and most multicultural zone in the megacity. Furthermore, Toronto's multiculturalism is exceptionally non-nominal, as the city has the highest proportion of recent immigrants of any of the world's major cities; Toronto thus harbours many distinct and authentic communities from diverse regions of the globe, making up by last count some 160 language groups. Visitors to Canada take careful note: this sort of thing is unofficially official policy and is always considered a selling point, a source of great civic pride. Also, a lot of frankly awesome restaurants from pretty much any cuisine you can think of.
There are likewise all sorts of cultural festivals, prominent among which are the Caribbean Carnival (Caribbean music and culture, formerly Caribana) and A Taste of The Danforth (authentic Greek street food). Additionally Toronto is a major LGBTQ-friendly centre, hosting the world's largest Gay Pride Parade (the last of three parades, after the Trans March and Dyke March) which closes off a Toronto Pride Month that is widely attended by both locals and tourists. The city hosted World Pride 2014, the first non-European city to do so, which included human rights conferences with delegates from countries around the world.
Theatre and film are other important ways in which the city reaches out for the world stage. Toronto's Theatre District is home to several new or beautifully restored old venues and is considered an important launching point for international productions, most recently the homegrown musical Come From Away. The annual Toronto International Film Festival (TIFF) is a high profile event, considered second only to Cannes, that has become a site for major film premieres (including The King's Speech, Argo, and Silver Linings Playbook) and a bellwether for the Oscars. Toronto is also justifiably proud of its vibrant indie music scene which, while not as internationally renowned as Montreal's, has produced the likes of Drake, The Weeknd, K'naan, Snow, the Barenaked Ladies and sometime Bowie collaborator Emm Gryner. Residents still mourn the loss of the famous Sam the Record Man shop, which not only served as a landmark (thanks to its giant neon signs), but served as an incubator for many famous Canadian bands and singers.
Torontonians are much more ambivalent about sports. Certainly they are proud to have a full slate of major league teams, including the National Hockey League's Maple Leafs, Major League Baseball's Blue Jays, the National Basketball Association's Raptors, Major League Soccer's Toronto FC and the Canadian Football League's Toronto Argonauts (Argos). Notably, Toronto is currently the only Canadian city to have an NBA or MLB franchise. The city also hosts the NFL's Buffalo Bills for frequent preseason exhibitions and have even flirted with the idea of an NFL team of their own. All this is, of course, only right and proper in a world-class city. The thing is, unless they're winning, it's just not all that interesting. Luckily, most of these teams have seen considerable success (most recently with the Raptors winning the 2019 NBA championship), but fan support is never really guaranteed...
... Unless you're the one spectacular exception, the Toronto Maple Leafs. A hockey team so loyally beloved that even though they haven't won The Stanley Cup, or even made the Final, since 1967, they still always earn the most by far of any team in the NHL, and are one of two teams every young Canadian prospect dreams of starting for (the other being the hated rival Montreal Canadiens). The Leafs franchise is worth nearly double the next most valuable... every game is a sellout and the waiting list for season tickets is tens of thousands long. Many GTA residents are honestly terrified of what might happen if they ever actually start winning anything againnote Given that the Raptors' winning the 2019 NBA Championship resulted in chaotic overnight street parties and 2 million people crowding the downtown core for a parade on a Monday, there is now some solid evidence the city might actually burn down if the Leafs ever win the Eastern Conference again, let alone the Stanley Cup.. That said, even the most most faithful fans have their limits; on more than one occasion, late-season games with a score heavily tilted in favour of the visiting team have led to fans chanting for the Blue Jays as a form of protest.
The joke is that Toronto has only two seasons: winter and construction. Actually, tourists would be well-advised to note that we also have a summer, that often slides into a long lingering autumn. The GTA is much further south than many American states, meaning the climate can best be compared to Chicago, not the North Pole.* Toronto is at almost exactly the same latitude as Boise, Idaho. Portland, Seattle, and Minneapolis–Saint Paul are all north of Toronto. If you are coming up between May and August dressed for the igloos, you will not be a happy camper.
As for the construction... well, yes, because of potentially heavy snowfallnote Most Canadians outside the Pacific coast will note that Toronto really doesn't get that much snow, due to its location sheltering it from the horrendous lake effect blizzards that plague the southern and eastern shores of Lake Ontario. However, the snowfall Toronto does get is responded to by the heavy use of rock salt to melt the snow and ice buildup that ensues, which, combined with the season-long freeze and thaw cycle, causes no end of damage Toronto has to concentrate most building and all its road work in the summer modon. That said, construction happens all year round in Toronto, which is something Torontonians will likely never stop complaining about. Add in the fact that Southern Ontario highways are some of the busiest in the world; the GTA sprawls over many kilometres, and is rapidly outgrowing its aging transportation infrastructure, without any real consensus on what to do about it. The main east-west route, Highway 401, is by most measures the busiest highway in the world, with all eighteen lanes jammed for miles at rush hour. Meanwhile Toronto's north-south crosstown artery, the Don Valley Parkway—initially intended to relieve congestion on the city streets—has long been affectionately dubbed the Don Valley Parking Lot. When construction starts forcing lane closures, things get gnarled very quickly. There were plans for others, which likely would have taken some of the pressure off. However, the residents of the neighbourhoods that would have been bulldozed to put them in decided they were quite happy where they were, and successfully persuaded the Metro and Ontario governments to put a halt to them. Adding to this, construction projects in Toronto are famous for their Development Hell, with the Line 5-Eglinton subway being delayed for over two decades. At least once a year, the city announced a completion date...until late 2022, when the transit agency Metrolinx announced they had no idea when it would open. Understandably, by 2023, most Torontonians have decided to never believe these announcements until they see the completion happen.
On the plus side the GTA also features an extensive transit network, anchored by the red-and-white subways, streetcars and buses of the Toronto Transit Commission (known semi-affectionately as the TTC) and the green-and-white provincial GOnote Standing, conveniently, for "Government of Ontario" commuter rail and intercity buses. As of 2022, GO Rail is being upgraded with electrification and level boarding to turn it into a kind of S-Bahn
with frequent, through-running service, effectively turning it into a second subway system.note Also, we'd be remiss if we didn't mention that the famous song "Takin' Care of Business
" by Bachman-Turner Overdrive was inspired by Randy Bachman (while still a member of The Guess Who) overhearing a recording technician talk about how he took an 8:15 train to get to the studio downtown each morning. Hence the world-famous "8:15 into the city" is a GO train to Toronto Union Station. If you're downtown, there's even an underground pedestrian tunnel network called PATH
. All told, though, it's a good thing that many families go up north to "cottage country" for vacations note Although that means more traffic on the way up....
The snow thing, incidentally, is a bit of a sore point. Back in 1999, a particularly major storm saw Mayor Mel Lastman calling in the army to help to clear it away. Naturally this became a goldmine of mirth for other Canadian cities, like Montreal, which gets an average of almost twice as much snow as Toronto does, and Vancouver, which always enjoys getting all up in the rest of the country's faces about how they don't even have snow. note In reality the mayor's concern was at least partially justified, as while Toronto is well-used to snow in general, when a big storm hits, there's nowhere to put it all. Snowplows would cover the sidewalks, and sidewalk cleaners would push it back onto the roads. The eventual solution was to just dump it all in Lake Ontario. This has become somewhat Harsher in Hindsight in recent years, as the Canadian Forces have been repeatedly deployed to help with disaster relief across the rest of Canada too.
One feature little-known to outsiders but central to Toronto's identity is its ravine system
. The city is transected by several major groups of deep ravines running from hills to the city's north down to Lake Ontario. In fact, one prominent architect has described Toronto as being "San Francisco turned upside down," seeing the ravines as an inverted version of San Francisco's famous hills. The ravines also figure heavily in the works of Toronto's most prominent authors. While the largest of the ravines, the Don Valley, was heavily industrialized, most of the rest remain in something close to their natural state, making them extremely popular among hikers and cyclists, despite some crime concerns. With most of the industries now gone, efforts are being made to restore the Don to a more natural state.
Recently, Toronto caught the world's attention via its crack-smoking, buffoonish mayor: the one and thankfully only Rob Ford. Ford was thrust into power by the supporters that make up "Ford Nation", i.e. the inner suburbs of Etobicoke and Scarboroughnote as well as large swathes of the outer 905 suburbs that technically aren't part of Toronto and couldn't vote for him, who see the Ford family—a wannabe dynasty headed by Rob and his big brother Doug—as their populist champions.
This... did not turn out quite the way they planned. After a series of brutally tacky scenes and quotes, meanwhile emphatically denying having ever used drugs (despite the Toronto Star newspaper discovering video proof of him sharing a crack pipe with local hoods) Ford admitted to doing so during one of his, actual quote, "drunken stupors". He then continued to deny that he was an alcoholic, or a drug addict. Although he rapidly became an international embarrassment, provincial laws prevented city council from removing him from office unless sent to jail for at least 90 days note Obviously, the drafters of that law anticipated that any elected official doing half of Ford's idiocies would have had the social grace to resign in shame, but Ford had practically built his power base on brazen, bullying shamelessness.
They did however, manage to strip him of most of his powers. In spite of having been reduced to a mayor in name only, he planned on running for re-election before a tumour in his abdomen sidelined him. Rob swapped places on the ballot with his brother Doug, who was running for his own re-election in Rob's former position as a city councillor. While Doug lost the mayoral race to the (comparatively) moderate candidate John Torynote who would resign from office less than four months into his third term after revelations of his own misdeeds, in this case an affair with a staffer, Rob won back his council seat handily. However, Rob's tumour had since developed into full-blown cancer and he spent much of his term as Councillor in the hospital before his death on March 16, 2016. He was succeeded as Councillor by his nephew Michael. A proposal to rename a small local stadium in Rob's honour was dutifully made, and swiftly voted down.
However... Doug Ford was elected head of the Ontario Progressive Conservative Party in 2018 and became Premier of Ontario later that same year.note A position John Tory unsuccessfully tried to run for before becoming mayor. Once in power Doug promptly unveiled a plan to cut Toronto City Council in half (in the middle of local elections) in the name of "efficiency"... and succeeded. Getting his "revenge" on Toronto proved quite popular among those with no love for the city, and kept his approval rating high despite other questionable measures. And then came Covid, which briefly distracted him from his quest in order to introduce and manage safety measures for the entire province. With the pandemic more or less ebbing, however, his quest continued, taking the form of building a large spa resort on parkland at Ontario Place, followed by moving the Ontario Science Centre from its east end home to a much-reduced facility next door to said spa.
---
Major Landmarks:
The Canadian National (CN) Towernote - At 553 metres (or a little over 1800 feet), the tallest free-standing structure in the world for over thirty years. It lost that title to Dubai's Burj Khalifa in 2007, and was for a time the tallest free-standing tower in the world, until the completion of the Canton Tower in 2010. Still considered the symbol of the city, and unquestionably one of the most distinctive pieces of architecture in the world.

Which made it all the more hilarious when they forgot to airbrush it out in the original theatrical release of Resident Evil (2002).
Used as a broadcast tower for the Toronto affiliates of all major Canadian networks (including CBC, CTV, Global, and City) and the main station in the provincial public television service TVOntario. You have its regionally-unrivaled height to thank if your antenna in Rochester, Buffalo, or Boston picks up these channels.

City Hall - Considered one of the few successful North American examples of the Modernist architectural movement. Composed of two sleek and curving offset towers cradling a central saucer-shaped council chamber—all intended to resemble a human eye from above—it would look right at home in any sci-fi series.

And, in fact, did appear as a "futuristic" building on Star Trek: The Next Generation at least once.
Also commonly but erroneously believed to have appeared as a "futuristic" building on Star Trek: The Original Series, just a few years after its construction. It did, however, appear in a TOS comic published in 1969, which likely led to the confusion.
Also appeared as the Umbrella Corporation's headquarters in Resident Evil: Apocalypse.

Royal York Hotel - One of the swankiest hotels in the city. Currently operated by Fairmont, it was originally built by the Canadian Pacific Railway and was the tallest building in the British Empire when it opened in 1929. The hotel's Royal Suite was also the official residence of Elizabeth II whenever she visited Toronto. In the name of propriety, the hotel staff keep the special royal furnishings in storage when she was not there so that other guests renting the Royal Suite could not use them.
Roy Thomson Hall - a circular cone-shaped concert hall in glass with steel X-bracing. It's been seen in the original X-Men movie and more recently, with a huge CGI extension as the Seven Tower in the Amazon Originals adaptation of Garth Ennis' comic book series, The Boys.
Scotiabank Arena (formerly the Air Canada Centre) - Home of the Maple Leafs and the Raptors.
Rogers Centre (originally called SkyDome; most locals still refer to it as such) - home to the Blue Jays, and before 2016 the Argonauts. Also the first stadium to have a fully functional retractable roof.note Has a hotel built right into it—so do remember to close your blinds if you stay there. If you want a room with a view of the baseball game, you have to sign a form stating that you won't do anything lewd in front of the cameras (note that this policy was only hastily instituted after a couple was caught doing something very lewd in front of the cameras).
Exhibition Place - a large combination fairground and parkland. Site of many trade shows, conferences, and fairs - most famously the annual Canadian National Exhibition (the CNE, or just the Ex). Also the location of BMO Field, home of the Toronto FC and since 2016 the Argonauts. Adjoining it is...
Ontario Place - a large provincially-owned festival and exhibition area, formerly a small amusement park, on the lakeshore, built on a series of artificial islands as part of a failed plan (one of many) to expand the city into Lake Ontario. Hosts a small water park in the summer. As mentioned above, in 2023 Premier Ford announced plans to revive the site with the controversial construction of a large spa resort building and the relocation of...
The Ontario Science Centre - a cutting-edge science museum in the city's northeast that helped kickstart the idea of interactive exhibits, diverting wildly from the usual staid institutions. Also the home of the OMNIMAX theatre, an immersive film experience that takes IMAX to the natural next level.
Casa Loma ('House on the Hill') - an actual Gothic-style castle, except built in the early 20th century by an eccentric millionaire more or less in the middle of the old citynote . Unfortunately he went broke building it, and it was only a private residence for a very short while. The castle is now by order of the owner's will a public museum, complete with tours of the many ornate rooms. And oh yes, it has secret passages.

It was used for the interior of the Xavier School in the first X-Men movie.note

The Royal Ontario Museum ("The ROM") - a more traditional cross-disciplinary museum and the go-to field trip destination for elementary schools across the province. Most famous for its extensive dinosaur and natural history exhibits, it also has significant collections of items from Indigenous peoples of Canada, Ancient Greece and Rome, East Asia, Egypt, and Europe. Established in 1912, the museum grew rapidly and sprawled into a cluster of linked, magnificent older buildings built in a variety of styles. The ROM's was given a very modern overhaul in 2007 with the opening of the Michael Lee-Chin Crystal that increased the museum's gallery space by 25%. Depending on who you ask it is a striking and daring piece of modern architecture, or an architectural monstrosity which resembles an explosion in a storm-door factory. Torontonians can't really decide either.

The interiors of the Crystal were used for filming the Massive Dynamic HQ scenes in the first episode of Fringe.
Adjoining the ROM is the McLaughlin Planetarium, which opened in 1968 and closed in 1995 amid budget cuts imposed on the museum by the provincial government. After being used as office and temporary exhibition space for several years, the building was sold to the University of Toronto in the 2000s. Plans for and opposition to the redevelopment of the site have grown ever since.

The Ontario Legislative Building - where the provincial parliament meets, an imposing, really beautiful century-old red sandstone structure situated in the middle of (and routinely referred to as)...
Queen's Park - a serene urban greenspace lined with trees. The park, laid out as an old-fashioned oval, is almost completely surrounded by (and is partly leasednote from)...
The University of Toronto - tends to get used as a stand-in for Oxbridge or Ivy League colleges in movies, especially the St-George campus downtown, which combines modern (or occasionally futuristic) architecture with traditionally dignified, ivy-covered buildings. Of particular note is the sinister-looking Robarts Library. note

The neo-gothic Knox College building probably gets the most screen time, since it can stand in as anything from a regular building to a castle.

The Art Gallery of Ontario (AGO, pronounced as it's spelled 'A-G-O' rather than 'ago' or 'ay-go') - which completed its own modernization in 2008, overseen by native son Frank Gehry (much better received than the ROM's). One of the largest art museums in North America, home to extensive Group of Seven and Henry Moore collections.
The Prince Edward (more commonly Bloor) Viaduct - the major downtown bridge spanning the Don Valley and thus the city's de facto West/East link. Notable for its splendid views of the Valley, lit-up railings and the fact that it was built with a lower deck for subways about 50 years before Toronto had subways. Formerly also notable as a very popular suicide spot (it's the one mentioned as such in the Barenaked Ladies' "War on Drugs") which explains the current elaborate net-like installations to either side.
The Danforth - formally Danforth Avenue, beginning at the eastern end of the Viaduct, hub of the city's east side and home to many kilometres of vibrant, eclectic and sometimes downright eccentric shopping, dining and community services. Greektown is located on its far western end.

Referenced by Barenaked Ladies' "The Old Apartment", wherein the singer apparently bought a house there after moving from the old apartment.

Eaton Centre - a really big, pretty, tourist-filled shopping mall, built when such malls were still a significant novelty. Formerly anchored by Eaton's, one of Canada's flagship department stores; a Nordstrom store opened where Eaton's used to be in 2016; the store is expected to close in June 2023. The Hudson's Bay Company (formerly Simpsons) department store at the mall's south end was featured in the opening credits of Today's Special; A Saks Fifth Avenue store has occupied the eastern half of the building since 2016.
Harbourfront Centre - which... uh... well, Toronto's harbourfront is kind of a mixed bag, despite various redevelopment plans over the years. Most recently, massive condo development of formerly industrial areas has largely overwhelmed the tourist aspect. The upscale Queens Quay shopping/dining complex is nice, though. Harbourfront Centre itself is a park and cultural centre with an outdoor stage, art galleries and studios, and theatres.
The Toronto Islands - three pleasant little outcrops about a mile from shore. Accessible only by harbour ferry and developed strictly as parkland aside from a tiny airport, an even teenier amusement park, and some small homes left over from the days when the islands were home to a sizable residential community. Through a compromise reached by residents who refused to leave when redevelopment came, the cottages are privately owned (by way of 99-year leases), but the land underneath them is owned by the city. The homes can be willed to relatives but cannot be sold on the open market; they are assigned a non-negotiable price and offered to individuals on a decades-long waiting list that can only be accessed by lottery. No cars allowed.
The Toronto Zoo - built into the wooded Rouge Valley Conservation Area just north of town. One of the world's largest and most well-respected zoos, containing specimens from every major ecosystem; a partner in many conservation/captive breeding efforts.
Yonge* Street - The major north-south thoroughfare, home to many downtown shopping landmarks including the Eaton Centre and the historic Sam the Record Man music store (which closed in 2007; the trademark neon record signs were refurbished and installed at the top of an office building overlooking Yonge-Dundas Square). All thoroughfares crossing it are bisected into "West" and "East". It was formerly recognised by Guinness as the longest street in the world, but this has been debunked as it was conflated with Ontario Highway 11. Still, a pretty doggone long street.

Downtown Yonge Street is the location of the surprisingly-visible-in-the-Hulk-Movie Zanzibar strip club, one of the biggest and brightest strip club signs you'll ever see.

Honest Ed's Discount Emporium - Closed as of January 2017, for decades the most famous store in the city... kind of hard to miss by any measure, really. Founded by the late Ed Mirvish, it covered a city block and was marked by enormous, wildly garish flashing signs, flanked by many smaller ones sporting awful puns on how cheap Ed was. After Ed's death the family ended the store's 68-year run by selling to a condo developer, but the fond memories are still seared into the city's eyeballs.

Despite all his calculated tackiness 'Honest Ed' was a kind and humble local philanthropist, renowned for his turkey giveaways before Thanksgivingnote and Christmas.
He was also a theatre impresario, and is credited with revitalizing Toronto's theatre scene, starting in the '60s when he bought and restored the Royal Alexandria Theatre and opened restaurants in the area to create a bona-fide Theatre District. He then built the Princess of Wales Theatre (named in tribute to Diana) in 1993. Ed and his son David operated Mirvish Productions, which put on shows like Mamma Mia! and The Lion King.
And now there's a plan afoot to reassemble the iconic main sign, in all its flashy glory, on the side of the Ed Mirvish Theatrenote . The mind boggles.

The ironically (though not inaccurately) named Church Street - one of the most famous gayborhoods (well, "gaybourhoods"—this is Canada) in North America. The street name actually comes from three major church buildings all located on or just off the thoroughfare, all dating back to the 19th century and all beautiful examples of neo-Gothic style; in order going north, St. James' Anglican Cathedral, the Metropolitan United Church, and St. Michael's Catholic Cathedral.note The epicentre of the gaybourhood is several blocks further north, centered around the intersection of Church and Wellesley Street East.

Outside of Church Street, downtown Toronto has a lot of notable religious architecture, such that it used to be called a "City of Churches" or the "Methodist Rome". Appropriately, the United Church of Canada and Anglican Church of Canada are generally considered the most LGBT-friendly Christian denominations in the country.

The Metro Toronto Convention Centre - home to the Fan Convention Fan Expo Canada, basically "San Diego Comic-Con North", which would be of particular interest to many of this site's Canadian users.
Union Station - on Front Street opposite the Royal York, opened in 1927 and as imposingly majestic as any other railway palace of the era. Thus often stands in for major railway stations in US cities, including Washington, DC (in Sue Thomas: F.B.Eye) and Chicago, Illinois (in Chicago). It pulled triple duty in Silver Streak, in which it played stations in Los Angeles and Kansas City in addition to the climactic train crash in Chicago.
299 Queen Street West— A former church/printing facility converted in the 1980s by televisual wunderkind Moses Znaimer to serve as the base for the legendary City TV and MuchMusic, both then at their creative zeniths. Though City has since relocated and the building is now owned by CTV, it's still a major broadcast centre. Not to mention, there's one bit left from City they couldn't remove— a newstruck embedded in the wall (though CTV redecoed it to remove the CityPulse deco).
Media Set in Toronto:
---