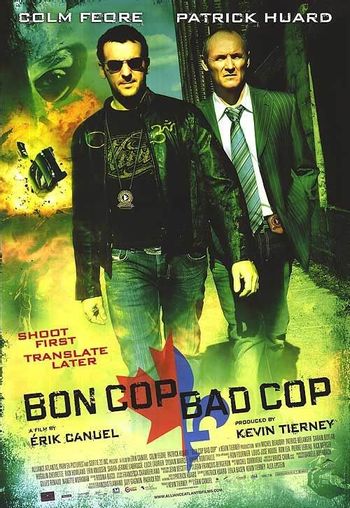 Shoot First, Translate Later.
Bon Cop, Bad Cop is a 2006 Canadian Buddy Cop movie by Erik Canuel focusing on an Odd Couple formed between a French-speaking cop from Quebec and an English-speaking cop from Ontario.
It starts out with a dead body that has been found hanging from a street sign demarcating the border between Ontario and Quebec. Da Chiefs of both provincial police forces, eager to foster the spirit of cooperation and to keep this case out of the federal RCMP's hands (so it looks good come budget times), assign two of their officers as partners to crack the case. From the Sureté du Québec is David Bouchard (played by Patrick Huard), a chain-smoking, rules-breaking violent Cowboy Cop with an attitude. He finds himself partnered with Martin Ward (Colm Feore) of the Ontario Provincial Police, a "square-head" whom even his son finds dull.
Much of the movie's humor comes from how it plays with the stereotypes English-speaking Canadians have of French-speaking Québécois—and, of course, vice-versa. The movie guest-stars numerous personalities from both sides of Canada such as Rick Mercer as an Expy of Don Cherry and Louis-José Houde as a Motor Mouth coroner.
The movie billed itself as a bilingual movie as both cops will often switch between each others' languages. It thus came with subtitle tracks for whatever language wasn't native to where it was released. The movie was a commercial success, and is Canada's highest (or, adjusted for inflation, third-highest) grossing movie. It should be noted, however, that the bulk of box-office receipts were from Quebec, and therefore Francophone audiences.
A sequel was released in 2017, taking place ten years after the first one. David is now an undercover cop investigating a ring of stolen car traffickers, and Martin is now part of the Royal Canadian Mounted Police (RCMP), the federal level of policing in Canada. David has barely changed, though his personal situation has gotten better (well, aside from the "living as a punk" part of his undercover operation). Martin, meanwhile, has gotten harsher and more determined to be the "bad cop" of the two. And yet, they have to team up again to stop the greater scheme lying beneath the operation David is investigating. However, the sequel downplays the cultural clash between English Canada and Quebec, and instead addresses themes around Canada's relationship with the United States.
---
The movies contain the following tropes:
---