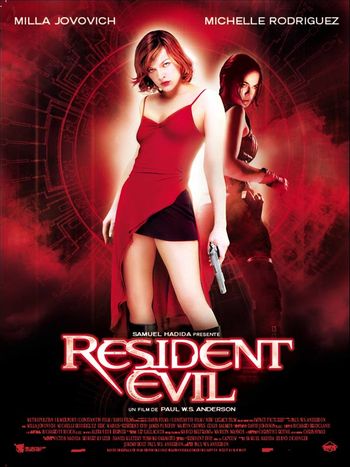 "You're all going to die down here."
— Red Queen
Resident Evil is the first film adaptation of the Resident Evil franchise, and the start of the Resident Evil Film Series.
A young woman named Alice (Milla Jovovich) awakens to find herself in an empty mansion with little-to-no memory of her past. After soldiers burst through the doors, they take her with them into the Hive, an underground bioresearch facility situated beneath the mansion. Alice, the strike team, and two tagalongs found in the Hive discover an unspeakable secret within the facility that the Umbrella Corporation wants hidden away for good: The company has developed a bioweapon far beyond anything the world has ever known. As Umbrella's response unit hunts for the cause of the devastation within the lab, the result of that devastation soon becomes clear: The dead have come back to life, and they hunger for fresh flesh!
---
Resident Evil contains examples of the following tropes:
---