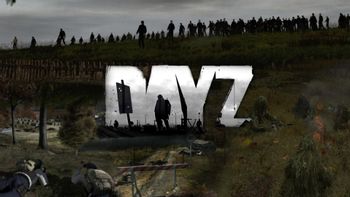 DayZ is, at best, unreasonably cruel.
DayZ
is originally a mod for the video game ARMA II, converting the realistic military sim into a post-apocalyptic zombie-survival simulation.
The game takes place in a fictional 225 square kilometer post-Soviet state called Chernarus (carried over from ARMA II) after an outbreak of an unknown infection that has wiped out most of the world's population. Players can stay out of the way and fend for themselves, team up with other survivors, or be a bandit and murder everybody they come across, or anywhere in between. Whichever they choose, they will also have to contend with what's left of the indigenous population, turned into shambling infected.
At the moment, the game is still in alpha, so bugs are to be expected. Regardless, DayZ has given ARMA II a huge boost in popularity, shooting it up to one of the top ten games on Steam. On August 7th 2012, the official DayZ blog announced that DayZ would become a standalone game to be released sometime in 2012.
On December 16th, 2013 the Standalone game was released in alpha on Steam Early Access. You can get it here.
On December 13th, 2018 the standalone came out of Steam Early Access and was released as a full game. You can get it here
Note: For your own sake, do not confuse DayZ with its Mockbuster, The War Z (later renamed Infestation: Survivor Stories).
---
Provides Examples Of:
---