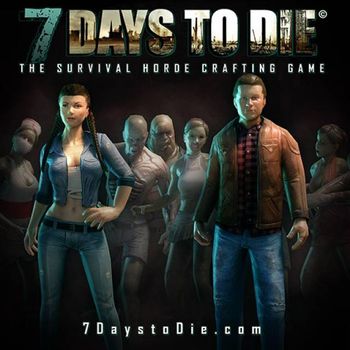 7 Days to Die
is a
Survival Sandbox
game with a healthy dose of zombies.
In the game, so far, you're randomly placed somewhere on the map of Navezgane, having to survive on your own right. Which so far, since the game is still in Alpha, is the only thing you can really do: Survive for as long as possible. You can destroy and build terrain as you please* Provided that you have the tools and small knowledge about physics, otherwise your creation may come tumbling down on your head, craft items, find and/or make food, repair guns and create them using gun-part molds, and prepare for when night falls, cause that's when the zombies start running for you.
You are free to customize your world setting prior to launching a new or already made world, such as whether or not zombies run, if friendly fire is on, how many zombies that spawn and if they continue to spawn, loot abundancy, loot respawn rate, looting time, and so on.
The game is currently in Alpha 19.4, featuring a graphics and art overhaul, a reworked survival system, and a new loot and perk rebalancing meant to resolve some issues from Alpha 18's rebalancing.
This game is developed by The Fun Pimps, and was financed through Kickstarter. You can buy it through the game's website or through Steam's Early Access.
---
Tropes found in Navezgane:
---