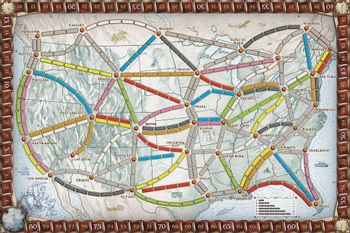 Ticket to Ride
is a board game produced by Days of Wonder. The premise is that you are travelling the United States by rail as part of a wager. All five players are in competition to claim the most and longest railroad tracks, and visit the most cities.
The board has several major cities and hubs as railroad destinations. Each player draws 3 ticket cards at the beginning of the game. Each ticket depicts two (or more) map destinations which needs to be connected at the end of the game. Gameplay is accomplished by doing one of three things, drawing up to two train cards, drawing new tickets, or playing train cards. When you play a set of train cards, you may then place a number of your wagons on the board on a route of the same color and length as the set of train cards you played. On gray routes, cards of any one color may be used. Locomotives may be used as wild cards instead of any color. Some maps limit the use of locomotives, and some of them require you to use locomotives on certain routes. When you place wagons on the map, you receive a number of points depending on the length of the route. When a player has used up their allocated 45 wagons (for most large maps, but variations exist including 15 vehicles for the mini games), the game is over.
At the end of the game, the tickets are added up. Each ticket is worth a certain amount of points based on the distance between the destinations on the card if the player has managed to build an unbroken line of wagons on the board between the destinations. Failing to complete a ticket in the above manner results in the ticket being worth negative points instead. Bonuses can also be gained, depending on the game, for making the longest train or having the most completed ticket cards. Some expansions also have other types of bonuses at the end. The person with the most points at the end is the winner.
There are Expansion Packs for the game. These include new boards and gameplay mechanics for Europe, Germany, Switzerland, the Nordic countries, India, Asia, and Africa, as well as card and mechanic expansions for the USA and Europe editions.
Europe (stand-alone game) added three new gameplay mechanics:

Ferries, for which a player must use at least one wild card to complete the route.
Tunnels, which force the player to turn over the top three cards on the stack and pay additional cards if the flipped cards match the route color.
Stations, which allow players to connect up using other players' routes, but at the expense of points.

Marklin (stand-alone game), played on a map of Germany, introduces passengers, which allow a player to collect merchandise tokens worth points from cities along the routes they've built. It also includes separate decks for "short" and "long" tickets, and routes leading to neighbouring countries.

A simplified version of this which removed the passenger tokens and corresponding cards was later released as Zug Um Zug: Deutschland in Germany. A small expansion to this game added a new passenger mechanic to the game.
Germany is the international version of Zug Um Zug: Deutschland which includes the passenger expansion.

Map Collection 2 Switzerland also includes routes from the surrounding countries, presented as Border and Hub cards, which net bonuses if certain borders and cities are linked up along a route.

This was released as a single map expansion at first but was later paired with India in Map Collection 2.

Nordic Countries (stand-alone game) combines the ferries of Europe with the tighter, more competitive map layout of Switzerland.

This was at first only released in the Nordic countries, but was later made available world wide.

Map Collection 1 Legendary Asia forces players to discard extra trains to pay for certain mountain routes.
Map Collection 1 Team Asia has players working in teams, each keeping their hand secret, even from their teammate.

Team Asia also includes tunnels that require flipping four to six cards from the deck instead of three, greatly increasing the chance of having to pay additional cards.

Map Collection 2 India allows players to net bonus points for hooking their routes up as a "mandala," or complete loop.
Map Collection 3 Africa allows a player to double the points of any route using special Terrain cards.
Map Collection 4 Netherlands introduces toll bridges, which allow the first player who purchases a bridge to collect payments from other players for its use
Map Collection 5 United Kingdom, where players are limited to where they can build at the beginning of the game, and must buy technology cards to expand their capabilities.
Map Collection 5 Pennsylvania, where building routes gives players access to railroad company stocks: at the end of the game, the player with the most stocks in a company gets a point bonus.
Map Collection 6 France, uses a map where players first have to color the routes using markers placed on grey routes before trains can be placed.
Map Collection 6 Old West, The first official (non-team) 6-player map.
Map Collection 7 Japan, In addition to the map of the whole of Japan it also includes a small map of Tokyo where a secondary network is placed in order to reach specific parts of Tokyo rather than the whole city.
Map Collection 7 Italy, with a new bonus function based on regions of the map.
Rails and Sails, introduces ships and harbours to the previously train only Ticket to Ride. The game contains two maps, two separate decks of cards for trains and ships. Some ship cards additionally allows the player to place two ships when played. The harbours give bonus points to tickets ending at the harbour.

Rails and Sails: The World which is a world map wrapping around the edges. This map also introduces difficult terrain which costs two train cards to build a single train on the map, and double ship cards which allows you to put two ships on the map for just the play of a single card. There are also tour tickets which depict 3 cities on the map and which score differently depending on which order you reach them - Building a straight line from A to B to C nets more points than just connecting A, B & C, using forks or going A->C->B.
Rails and Sails: Great Lakes which takes place around the Great Lakes of the US using most of the rules from The World except the wrapping world and the tour tickets.

Poland (stand-alone game) has so far not been released outside of Poland.
Express (stand-alone game) A middle sized game on a map of Europe, so far only released in France.
New York (stand-alone game) A new mini game using taxis on Manhattan
London (stand-alone game) The second mini game using buses in central London.
Ticket to Ride, Europe and Deutschland have minor expansions with extra tickets and a replacement train deck available.
There is also a huge number (~100) of fan created maps available for Print-n-play.
There is also an online version available for purchase that can be played via Java through a web browser, through Steam, through an app available for Macs or iPads, or through an Android app.
---
Tropes appearing in Ticket To Ride:
---