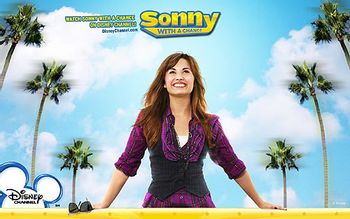 Sonny with a Chance (2009-2011) is a Disney Channel show created by Steve Marmel about a girl who joins the cast of a kids' sketch comedy show called So Random!. The show follows the Zany Schemes of the cast members, as well as those of the star of melodramatic Teen Drama Mackenzie Falls, a rival TV show that appears to shoot at the same studio.
Characters include Sonny, the Naïve Newcomer and Promoted Fanboy; Tawni, the Alpha Bitch of the cast; Nico, the show's token attractive male star and borderline KidAnova; Grady, Nico's best friend; Zora, miniature Zany Schemester and borderline junior Manic Pixie Dream Girl; and Chad Dylan Cooper, the aforementioned star of Mackenzie Falls and token Jerk with a Heart of Gold who consorts with Sonny and her castmates. Sonny with a Chance is a vehicle for Radio Disney pop-star Demi Lovato, joining other live-action Disney Channel series such as Wizards of Waverly Place, Hannah Montana, and Lizzie McGuire.
Come the third season however, the title of the show adopted its Defictionalized version of the Show Within a Show, So Random!, due to the departure of Demi Lovato (i.e. Sonny) from the cast. The format changed a bit as well, changing to a variety comedy akin to All That, though it still features the same characters (along with new ones).
---
This show contains examples of:
---