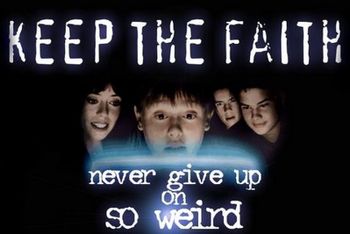 In the darkness is the light
Surrender, we'll win the fight
This girl's walked through fire and ice
But I come out on the other side
Of paradise.
— "In the Darkness" (The series theme song)
So Weird is an Urban Fantasy series that ran from 1999-2001 on the Disney Channel, lasting for 65 episodes as per the network's policy.
The focus of the show is on Fiona "Fi" Phillips (Cara DeLizia), who is obsessed with all things supernatural and seems to encounter them everywhere. As the story goes, the Phillips-Kane Band, consisting of Fi's parents Rick and Molly Phillips (the latter portrayed by Mackenzie Phillips of One Day at a Time) was at the height of their popularity in the late 1980s when the band unexpectedly dissolved after the suspicious and untimely death of front-man Rick, who, as it happens, was also an amateur parapsychologist.
We join the main story some ten years later, several months after Molly has come out of retirement and gone on tour as a soloist. Along with her are her children Jack and Fi, Molly's faithful roadie Ned (Dave "Squatch" Ward), his wife Irene (who is also Molly's manager), and their sons Clu and Carey.
While fairly obscure, So Weird was notable for being darker than any other Disney series, even to date (which isn't saying much, it still had the mood and camp of a 90s Disney Channel series) The first two seasons built a Myth Arc around Fiona's quest to understand the mysterious circumstances her father was involved in before his death by following in his footsteps and the tension this caused with her concerned brother and mother, ending when Cara de Lizia left the cast after the second season. For the final season, Alexz Johnson joined the cast as Annie Thelan, a friend of the family. A new arc was developed around her own mysterious childhood involving a spirit panther who followed her from town to town.
The series was complemented by a number of suspiciously apropos musical performances by Mackenzie Phillips and Alexz Johnson, such as "Another World" and "In the Darkness" (which also served as the show's theme song).
The show is notorious for languishing for numerous years without any sort of home media release, despite having a cult following and a decently strong fandom. Thankfully, after almost 16 years of being in limbo, it was announced in 2019 it would be on Disney's streaming service Disney+.
Not to be confused with the Disney Channel's children's sketch comedy show, So Random!, nor with the Canadian fantasy series Seriously Weird.
---
This series provides examples of:
---