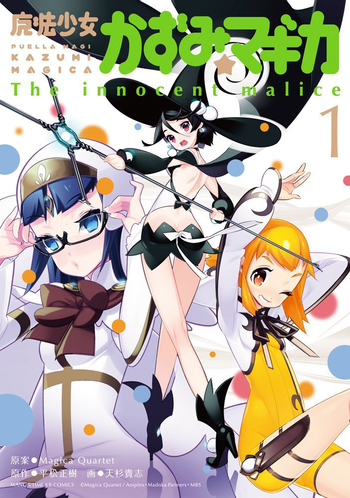 Puella Magi Kazumi Magica: The Innocent Malice is a Spin-Off Manga of Puella Magi Madoka Magica, written by Masaki Hiramatsu and illustrated by Takashi Tensugi. It ran in the monthly magazine Manga Time Kirara Forward starting in January 24th 2011, and continued until November 24th, 2012. It features a different set of characters in a new plot separate from the anime, but in the same universe.
THIS PAGE HAS UNMARKED SPOILERS, BOTH FOR THE ANIME AND KAZUMI MAGICA ITSELF. YOU HAVE BEEN WARNED.
Kazumi Magica follows Kazumi, a amnesiac young girl who wakes up in a suitcase. Fortunately for her, she's quickly reunited with her friends, Umika and Kaoru. But when her life is in serious danger from a giant praying mantis, she unlocks her magical potential and transforms into a magical girl. Kazumi doesn't remember anything about who she was before she was locked in that suitcase, but as she works towards finding out more about her past self and her strange and difficult quest to fight witches, what will the "new Kazumi" become?
The series has been licensed in America by Yen Press and released in its entirety. Please use the official translations on this page when possible.
Kazumi, Umika and Kaoru would later
appear
in the Puella Magi Madoka Magica Online game as well as the 2017 smartphone game Magia Record.
---
Tropes in Puella Magi Kazumi Magica: The Innocent Malice include:
---