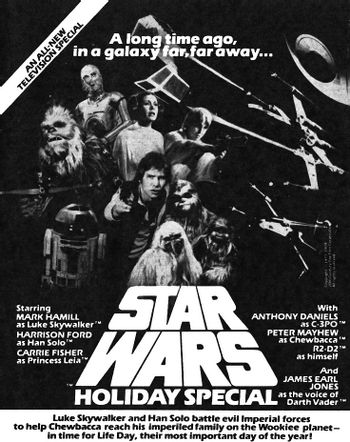 Maxim magazine: Any plans for a Special Edition of the Holiday Special?
George Lucas:
[hangs head] Right. That's one of those things that happened, and I just have to live with it.
The Star Wars Holiday Special is a two-hour Star Wars Legends TV "special" that was broadcast on CBS on November 17, 1978. Hugely anticipated, it was so poorly received that it has never been re-aired. Lucasfilm has spent the next four decades doing their best to pretend it never happened.
The main storyline, set in 0 ABY (shortly after the original Star Wars film, A New Hope), takes place on the Wookiee home planet of "Kazook" note (the planet's name is Kashyyyk, which had been established before the special aired). Besides cameos from Han, Chewbacca, Leia, and Luke that appear to have been wrung out of the actors at gunpoint, the special introduces three members of Chewie's family: his father Itchy, his wife Malla, and his son Lumpy (played by Patty Maloney).
Want to know more about the rich planetary culture of these proud creatures, starting with why they're mostly named after embarrassing incidents at the frat house? Too bad, they all speak only Shyriiwook. You know, the whining, moaning, growling and barking that only Han could understand in the movies? The first 10-15 minutes is conducted entirely in those, with no subtitles whatsoever. The first actual English we hear after a while comes from a brief transmission from Luke Skywalker, played by Mark Hamill under layers of foundation note The makeup was actually to cover up scars on Hamill's face that he had incurred from a recent car accident.
The basic idea linking the segments together is that Chewie is trying to get home for the big Wookiee holiday, Life Day. During the course of the film, we get updates from the Millennium Falcon as a seriously-bored Harrison Ford and Peter Mayhew race for "Kazook" space. The catch is that they may not make it in time as they're being pursued by agents of the Empire, who are also searching the planet for Rebel agents. A couple of agents show up to search Chewie's house, leading to about 10 whole seconds of actual suspense. And a random act of violence against a stuffed animal.
For the rest of the running time, we're given insight into the proud rich Wookiee tradition of watching 1970s-style Earth TV - despite the fact that this is all going on a long time ago in a galaxy far, far away:
A musical number by rock band Jefferson Starship shows up during the agents' search.
Ackmena (played by Bea Arthur) performs a musical segment from the Mos Eisley Cantina as the Empire imposes a curfew on Kashyyyk looking for Han and Chewy.
Itchy gets off on what can only be described as a VR porn disc starring Diahann Carroll. Provided to him by Saun Dann, a trader played by Art Carney!
Lumpy watches a cartoon, which is actually not too bad. (Despite Lucas' best efforts to disregard the Holiday Special's existence, this segment is among the bonus features on the Star Wars: The Complete Saga Blu-ray boxset and The Empire Strikes Back Ultimate Collector's Edition UHD set, and was eventually released on Disney+.)
Lumpy watches the instruction disc for assembling a transmitter. Every step, from start to finish, is read by a robot-impersonating Harvey Korman. Not a robot impersonating Harvey Korman, mind you, which might have turned out better.
Malla watches a cooking show starring a multi-armed and crossdressing Korman.
And if you happen to have a version with the original ads intact, enjoy a visit into a lost world of union-made underwear, calling long-distance after 8 PM to save money, fake-wood-paneled Mercury station wagons, and "Emily" as a stereotypical old-lady name instead of a stereotypical millennial one. And remember, "Tobor" is "robot" spelled backwards!
It all ends with Han and Chewie making it home and defeating the Stormtroopers. Afterwards, the Wookiees all don cult robes and hold glowing orbs as they walk into space and end up at the Tree of Life, where Princess Leia sings a song and it's obvious that Carrie Fisher (who was high on cocaine when filming this) and Harrison Ford (who was likely sober) couldn't give a fuck about any of this.
The Holiday Special is important, at least to serious fans, for being the first film-length Star Wars story after the release of A New Hope, as well as showing an expanded look at parts of the established universe. The program is considered Legends canon with regards to Chewie's family, including the celebration of Life Day. We also get some vague insight into the Imperial occupation of Kashyyyk (not mentioned in the films, but important to Legends) plus a few other locales, such as a water planet known as Panna. It's also the first time the main characters visit Kashyyyk, though this is later disregarded when Leia goes there during The Thrawn Trilogy and acts like it's her first time seeing it note (although considering how high Carrie Fisher was during filming, Leia might not have remembered much of it anyway).
The animated segment, which officially introduces Bounty Hunter Boba Fett - and thus served as a mini-preview for The Empire Strikes Back - was at least decent, and was likewise considered canon (it was animated by world-respected Nelvana Studios, who went on to handle the later spinoff shows Droids and Ewoks). This fact alone has stayed the hand of many a would-be tape burner. The music is likewise okay, thanks to John Williams. The special is also notable for being one of the first efforts by young makeup artist Stan Winston, who later skyrocketed to fame by creating The Terminator and the dinosaurs of Jurassic Park.
For the most part, though, it's legendary for its badness - you won't find any devoted Star Wars fanboys defending this one. Even the director note (Steve Binder, best known for T.A.M.I. Show and Elvis Presley's '68 Comeback Special) won't defend it. Carrie Fisher even openly held a copy that she used simply as a tool to scare off house guests who had overstayed their welcome. The entire vast, complex Star Wars mythos is reduced to a typical 1970s variety show - rock-bottom production values, groan-worthy "humor", and then-hot celebrities. What Were They Thinking? The 100 Dumbest Events in Television History lists this special as the all-time #1 worst moment, and it's become something of a de facto benchmark for how bad a made-for-TV movie can become. Besides everything else, it's pretty disturbing seeing Itchy going gaga over Carroll in what's clearly supposed to be a kiddie funfest.
And although not exactly related, the commercials
that aired during the special (and preserved on some bootlegs) are also absolutely hilarious in an unintentional way.
If you care to, the best way to watch The Star Wars Holiday Special is with several Pan-Galactic Gargle Blasters or your local planetary equivalent. If you'd first like to have an idea of what you're getting into in relative comfort, I-Mockery has a three-page synopsis with accompanying animated GIFs of scenes here
. Watching it with the RiffTrax commentary
helps ease the pain as well. It was also reviewed by The Nostalgia Critic (as seen here
) as well as Chris Stuckmann (here
), and also discussed in length by RedLetterMedia (here
), by The Cinema Snob (here
), and by JonTron (here
). If you're fluent in French, you can also watch the Joueur du Grenier's review here
.
Finding copies on a legal basis is downright impossible, as Lucas will ensure it won't get a home media release as long as he lives... though apparently looks the other way when it shows up on certain video sites. The special is regularly brought up each December on WrestleCrap, reviewed by a fellow Troper here
. Watch at your own risk here.
Got the RiffTrax treatment in 2007, with the team working off a taped airing in 1978 with the commercials intact. The RiffTrax version can be viewed free on YouTube here
, though without the Boba Fett cartoon and Jefferson Starship song, both due to licensing rights.
To the shock of many, Life Day was brought into the post-Disney buyout Star Wars canon via a brief mention in the first episode of The Mandalorian in November 2019. The animated segment "The Story of the Faithful Wookiee" received an official release as an Easter Egg on The Complete Saga Blu-Rays, and was also made available on Disney+ in April 2021.
Then in 2020, Disney took it one step further by announcing a new Holiday Special... in animated form. That special, The LEGO Star Wars Holiday Special, set after the events of the Sequel Trilogy and featuring a much more coherent (and explicitly non-canon) plot involving Rey time-traveling throughout the events of the movies, would premiere on Disney+ on November 17 of that year — the 42nd Anniversary of the original special.
---
The Star Wars Holiday Special has examples of:
open/close all folders
A-N
O-Z
---