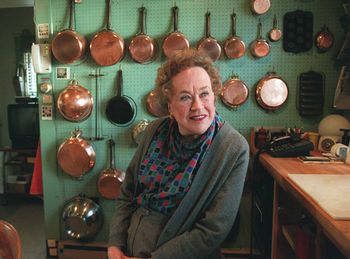 Julia Carolyn Child (née McWilliams, August 15, 1912 – August 13, 2004) was an American chef and author or co-author of a number of cookbooks, most famously Mastering the Art of French Cooking in two volumes. She became a celebrity in the 1960s and beyond, and is the subject of many an Affectionate Parody, given her enthusiastic demeanor and her distinctively plummy voice. Child herself was aware of and appreciated the many parodies of her work - although she never stooped to self-parody she maintained a distinctly light-hearted attitude and approach to her subject which (naturally) endeared her to audiences.
Her PBS program The French Chef pioneered the genre of the Cooking Show. It was produced from 1963 to 1973, and still can be seen in reruns to the present day. Episodes are also available on YouTube and have streamed on Twitch.
Just as a warning, American chefs and cooking professionals hold Julia Child to a level of respect and admiration that borders on religious. It is better for you to badmouth Fred Rogers on 4Chan than it is to badmouth Julia Child around a chef, especially if you are badmouthing her in his restaurant.
Works associated with Julia Child include:
Tropes associated with Julia Child's works include: