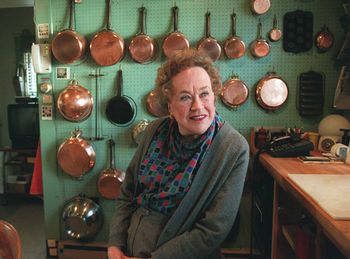 Julia Carolyn Child (née McWilliams, August 15, 1912 – August 13, 2004) was an American chef and author or co-author of a number of cookbooks, most famously Mastering the Art of French Cooking in two volumes. She became a celebrity in the 1960s and beyond, and is the subject of many an Affectionate Parody, given her enthusiastic demeanor and her distinctively plummy voice. Child herself was aware of and appreciated the many parodies of her work - although she never stooped to self-parody she maintained a distinctly light-hearted attitude and approach to her subject which (naturally) endeared her to audiences.
Her PBS program The French Chef pioneered the genre of the Cooking Show. It was produced from 1963 to 1973, and still can be seen in reruns to the present day. Episodes are also available on YouTube and have streamed on Twitch.
Just as a warning, American chefs and cooking professionals hold Julia Child to a level of respect and admiration that borders on religious. It is safer for you to insult Fred Rogers on 4Chan than to disparage Julia Child in the hearing of a chef, especially if you are badmouthing her in his restaurant.
Works associated with Julia Child include:
The French Chef: A pioneering Cooking Show produced by WGBH Boston from 1963 to 1973, which she hosted, and for which she and her crew won a Peabody Award in 1964 and an Emmy in 1966. Child continued to be associated with this program in particular long after it ceased production and she moved onto other projects for PBS.
Julie & Julia: A 2009 combination fantasy and biopic directed by Nora Ephron, aligning Child's experiences in Europe while she attended the Cordon Bleu school and co-authored her first cookbook, and author Julie Powell's attempt to cook all 524 recipes in the book in one year. Child is played by Meryl Streep.
Julia: A 2021 documentary chronicling Child's life.
Julia: A 2022 series for HBO Max created by Daniel Goldfarb which can be viewed as a spiritual companion to The Marvelous Mrs. Maisel (which Goldfarb produces) - a period piece about a woman entering a new chapter of life and discovering the joys of creativity and performance with a little help from her friends and family. It is set during the early '60s, and charts the early days of the making of The French Chef at WGBH-TV in Boston, making it feel a lot like an unofficial sequel to Julie & Julia. Child is played by Sarah Lancashire.
John "Melody Sheep" Boswell did a tribute video for Child in his own unmistakable style.
One of Dan Aykroyd 's best-known SNL sketches is his impersonation of Julia. The skit is, itself, often parodied.
Appears in the second episode of Season 5 of Epic Rap Battles of History against Gordon Ramsay.
She appears in an episode of Xavier Riddle and the Secret Museum, where she teaches Xavier about how you can do anything if you take it one step at a time.
Tropes associated with Julia Child's works include: