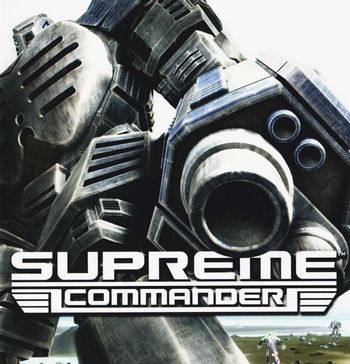 Supreme Commander
is a
real-time strategy video game
by
Gas Powered Games
that has been hailed as the
Spiritual Successor
to
Total Annihilation
, which is not surprising as they are both designed by Chris Taylor. Set in
The Future
, man has used quantum tunnels or portals that are opened from the fabric of space leading to a designated location that can be light-years away. Earth is unified into the Earth Empire and man starts to explore and colonize the stars with the development of this technology. Then it all goes sour.
The first nail in the coffin of this golden age is the symbionts, humans enhanced with cybernetic implants - the chief figure having had their brain merged with an advanced AI computer in a process patented by Dr. Gustav Brackman. Unfortunately, the Earth Empire treats the symbionts more like slaves than real people which is something the symbionts and their father figure Brackman don't particularly like. So Brackman and a group of followers rebel, set up their own country - the Cybran Nation - and start waging a guerrilla war to liberate their fellow symbionts.
The next and probably biggest nail in the coffin of the Earth Empire is the formation of the Aeon Illuminate, that got founded when human colonists on one planet ran into alien intelligent life, the Seraphim. See, the Seraphim had a peaceful and advanced society, complete with a quasi-Buddhist philosophy they called The Way which they shared with the human colonists. Unfortunately, the local Imperial military commander overreacted, and caused the genocide of the Seraphim with a bioweapon. The Seraphim's human cohorts didn't like that too much, formed the Aeon Illuminate and pretty much told the rest of the galaxy to join or die.
Then, the Earth Empire collapses and is reformed into the United Earth Federation. And then you have a thousand year long three sided war being waged by these factions. These are the events leading up to the first game. Then the expansion pack, Forged Alliance, comes out and we find out the Seraphim are actually Not Quite Dead. The colony that was destroyed was only a very small fraction of the entire Seraphim race. Naturally, they are pissed at what happened to their colony and proceed to attack humanity. This causes the Aeon Illuminate to break in two with one faction siding with the Seraphim and the other forming an alliance with the other two human factions to stop the Seraphim in their tracks. In the process, the Seraphim also have the upper hand, since they control QAI, Brackman's Master Computer.
It was followed in 2010 by Supreme Commander 2.
---
The setting contains examples of:
open/close all folders
Tropes A-D
Tropes E-N
Tropes O-Z
---