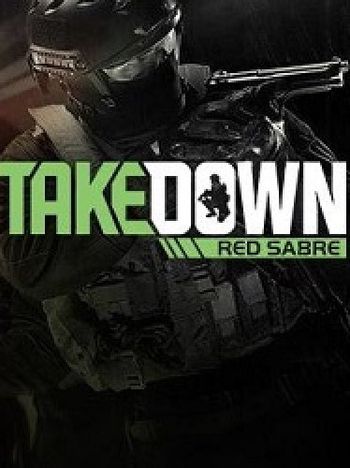 Takedown: Red Sabre
is a 2013 Indie,
Kickstarter-funded
tactical shooter intended as a return to the hardcore, close-quarters tactical gameplay of games like the first 3
Rainbow Six
games and the 3rd and 4th games in the
Police Quest
S.W.A.T.
series. The game is punishingly difficult; one or two shots are generally fatal, there is no
Regenerating Health
, and overall the game is intended to be played slowly and deliberately instead of as a more action-movie experience like
Call of Duty: Modern Warfare
. The game uses the Unreal Engine 3.
Takedown: Red Sabre had a fair impressive pedigree; the director was formerly the lead designer on Ghost Recon 2 and Ghost Recon Advanced Warfighter, and the development team apparently included other tactical shooter alumni as well. The developer, Serellan LLC, was formed specifically to make the game. It was made available on their web site, as well as on Steam under their Early Access program. It was later released on Xbox live for Xbox 360.
Players take the role of an operator for Red Sabre, a PMC specializing in covert operations, ranging from eliminating terrorists to engaging in illegal and morally ambiguous corporate espionage. There is no over-arcing narrative, but rather several different missions in various areas (including a biological research lab, a corporate office, an Antarctic research outpost, a cargo ship, and a nuclear missile silo) that can be played in either 4-player co-op or in single player alongside 3 A.I.-controlled teammates. Each map can also be played as a lone wolf in Tango Hunt or Bomb Disposal mode.
The game was met with overwhelming positive expectations from those looking for a new tactical shooter, a genre that has largely been abandoned in recent years by mainstream gaming publishers and developers. It was also met with just as overwhelming negative reception when the final product was released, as the game proved to be overall buggy and poorly implemented, ranging from poor A.I. to net code that was almost guaranteed to not function. Although a number of patches have been released to address the most blatant issues (largely regarding the net code), the game is still looked on disfavorably by the community, having been compared to the likes of Day One: Garry's Incident and Ride to Hell: Retribution by critics. Serellan have stated their intent to continue supporting the game and making improvements to it, including the promise of releasing a level editor.
---
The game provides examples of the following tropes: