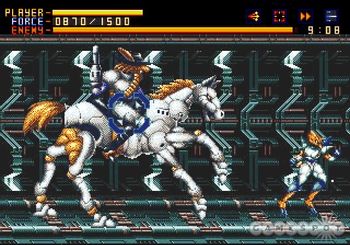 VISUALSHOCK! SPEEDSHOCK! SOUNDSHOCK!
NOW IS TIME TO THE 68000 HEART ON FIRE!
Alien Soldier is a 1995 Run-and-Gun game by Treasure for the Sega Genesis, serving as a Spiritual Successor to Gunstar Heroes. While it shares some similarities with other run-and-guns, the focus here is on lightning fast reflexes instead of using the strongest weapon available. You play as Epsilon-Eagle, a cybernetic birdman who fights against the rogue organization Scarlet, traveling throughout the galaxy and leaving large amounts of carnage in your wake.
The plot, if it even matters, concerns a criminal organization of genetically engineered beings called "Scarlet" who terrorized the planet Sierra. Their members are able to live within humans, animals and machines via a parasitic ability. Epsilon-Eagle, the leader of Scarlet, was ambushed by a team of Sierrans with super powers, and thrown into the space-time continuum. The new leader of Scarlet, Xi-Tiger, was hated by his own men for being too ruthless compared to Epsilon, and as such he wanted to destroy Epsilon once and for all. Xi-Tiger attacked a Sierran research laboratory where he sensed Epsilon in the body of a boy named Fou. He took Fou's girlfriend Kaede hostage so as to force Epsilon to come out, causing Fou to transform from a boy into a cyborg birdman. However, Fou's good human side began to overcome Epsilon's evilness and made him want to fight for good (a process that, apparently, split his evil side away). Xi-Tiger killed Kaede and ran away, triggering Fou and Epsilon's combined rage as they chased after him. The plot actually makes even less sense as it proceeds. Epsilon continues his rampage against Scarlet even after he defeats Xi. He ends up facing off against his evil side Epsilon-1, only for the planet to explode afterwards with no explanation, and is then shown visiting what seems to be an alien wizard, who sends him back in time. Epsilon, of course, goes back to doing what he does best. He massacres the rest of Scarlet, is forced to destroy Kaede who has been revived as a shapeshifting (and familiar-looking) cyborg, and faces off against a giant cyborg lion - Z-Leo, whose significance to the plot is completely unknown.
Of course, none of that actually matters. What does matter is lots of explosions, sick Genesis music, a badass and super powerful main character and lots and lots of bosses. More than twenty of them to defeat, in fact.
Epsilon's a handy fellow, able to carry four weapons at a time. Each one of these can be chosen from a list at the start of the game, as well as swapped for using powerups:
Epsilon-Eagle's other abilities include:
Zero Teleport - An invincible teleport dash.
Levitation, from which he can perform a double jump.
Counter Force, which is executed by double-tapping the attack button. It briefly spawns an orb at melee range that absorbs or deflects enemy attacks, and can spawn life pickups from absorbed attacks.
The ability to switch between stationary 8-direction fire and firing on the move. Done by pressing down + the weapon select key. Note that firing on the move will use more ammo.
Epsilon also has some more niche offensive capabilities:
If Epsilon's ammo runs out, he starts using a drastically de-powered Flame Force. However, this weapon bypasses all enemy immunity (Even the final boss's!) and is easy to utilize for counter spam.
Counter Force also happens to deal decent damage and shares the emergency weapon's bypassing capabilities, allowing offensive use.
If Epsilon is at full health, his teleport dash heavily damages all enemies it passes through for each frame spent passing through them. Take note that while the screen borders won't stop the dash, anything solid will. Epsilon is also shown using this ability a few times in cutscenes. Using this ability also damages him a bit.
Mastering this diverse arsenal is the key to mastering the game.
---
Alien Soldier contains examples of:
---