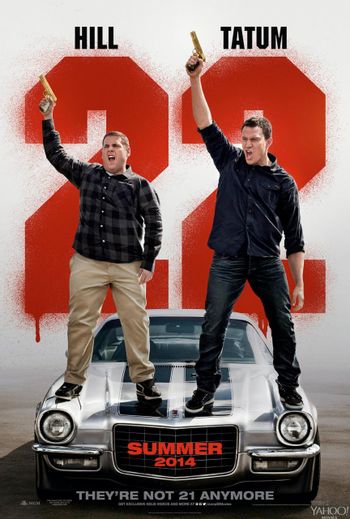 "Ladies, nobody gave a shit about the Jump Street reboot when you first came on. Anyone with half a brain, myself included, thought it was destined to fail spectacularly. But you got lucky. So now this department has invested a lot of money to make sure Jump Street keeps going. We've doubled their budget, as if spending twice the money guaranteed twice the profit."
— Capt. Hardy
The 2014 sequel to the 2012 comedy 21 Jump Street. The film once again is directed by Phil Lord & Chris Miller and stars Jonah Hill and Channing Tatum as Morton Schmidt and Greg Jenko. This time they have to go undercover at a university to locate a drug called WHY-PHY ("Work Hard? Yes, Play Hard? Yes", pronounced "wi-fi"). However, complications arise and their friendship comes under pressure.
The fact that this is basically a step-for-step retread of the first film is openly acknowledged and completely lampooned throughout the story. Like the first film, this pokes fun at college comedies and action films. Of course, this time, it especially pokes fun at action film sequels.
The film was released in most of Europe on June 4 and in America on June 13.
Compare Superbad, Hot Fuzz, The Heat, and Bad Boys II.
During the 2014 Sony email leaks, it was revealed that a sequel was in the works, and would be a Crossover with the Men in Black franchise as an Affectionate Parody of the shared film universe concept first introduced by the Marvel Cinematic Universe. The film's title was later revealed to be MIB 23, with Tatum and Hill set to reprise their roles. It's since been cancelled
, leaving the future of Jump Street uncertain (while MIB has gone international).
---
The film provides examples of: