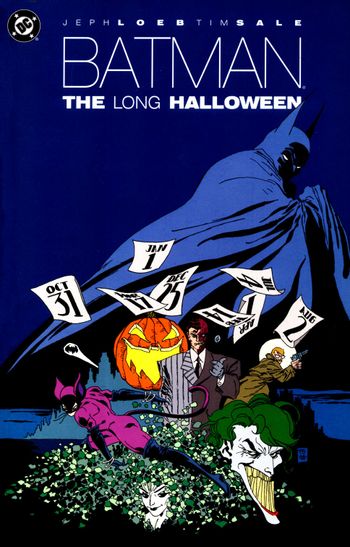 Who is Holiday?
'
— The Joker
The Long Halloween is a Batman mini-series that ran from 1996 to 1997, produced by the creative team of Jeph Loeb and Tim Sale. The mini-series came out of the duo's semi-regular yearly Batman Halloween Specials that they did for DC Comics.
The series, which is a sequel to Batman: Year One, involves a number of intertwining plotlines. To begin with, a serial killer is targeting members of Gotham's crime families. Due to the killer striking once a month, each time on some holiday, and leaving a holiday-related trinket as a Calling Card, the press quickly dubs them "Holiday" (the title refers to the first murder, which was on Halloween).
For Carmine "The Roman" Falcone, the head of Gotham's largest remaining crime family, Holiday is just the latest in a long series of problems. The Batman has been a thorn in his side and Catwoman has been robbing him (prompting Falcone to put a bounty on both their heads), District Attorney Harvey Dent is crusading to shut him down, and he's facing competition both from other mobsters and from a new breed of criminals—the costumed supervillains.
Batman, Captain Jim Gordon and Harvey Dent meet on Halloween to discuss an alliance to bring down Falcone. They promise to "bend the law but not break it", but as the stakes grow higher, they begin to distrust each other. Batman suspects that Harvey Dent is Holiday, and Dent becomes convinced that Bruce Wayne is secretly allied with the Falcone family. It doesn't help Bruce's case that Falcone is pressuring Wayne Industries into joining his money-laundering scheme.
Eventually, the Mob resorts to trying to catch Holiday by hiring supervillains. And Hilarity Ensues.
Everything leads up to two events: First, the acid being tossed onto Harvey Dent's pretty little face, leading to his transformation into the villainous Two-Face. Second, the downfall of Falcone's criminal empire.
Spawned two sequels: Batman: Dark Victory and Catwoman: When in Rome.
A two-part Animated Adaptation of the story was released in 2021, entitled Batman: The Long Halloween. The same year, DC also announced
a follow-up special by Loeb and Sale.
The comic would greatly inspire other Batman media going forward, most notably The Dark Knight Trilogy and The Batman (2022), both of which loosely adapt some of its plot beats.note In fact, the director of The Batman — Matt Reeves — studied screenwriting under Jeph Loeb
---
This limited series contains examples of:
open/close all folders
A - H
I - N
O - Z
---